2 for $35 Lunch Crock Food Warmers @ Crock-Pot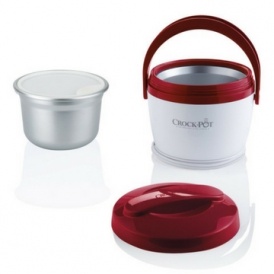 This deal has expired, but these crock-pot lunch food warmer is on-clearance for $5.00 each at Walmart! Get the deal here.

If you're always on the go and never get a chance to cook throughout the day, you'll want to pick one of these up! The super-handy Lunch Crock Food Warmers are available from Crock-Pot, and they're on sale for 2 for $35!
The Lunch Crock usually sells for $22.99 each, and it's perfect for busy workdays or long classes when you really can't leave your desk. Just plug it in and warm your meal up from your chair!
Choose from these colours:
Each one includes a removable, dishwasher-safe food container and lid that you can easily fill, wash and transport on its own. It has a 20-ounce capacity that's perfect for individual servings.
The tote handle makes the Lunch Crock easy to carry, and the outer lid makes sure nothing slips, slides or spills. The exterior is cool to touch, even when it's turned on, and the cord stows away when not in use.
This deal expires on August 27, 2017 at 11:59 PM, but order early if you want them in time for the first day of school!
For a limited time, standard shipping is FREE on most orders!