Pandora Canada Sale Calendar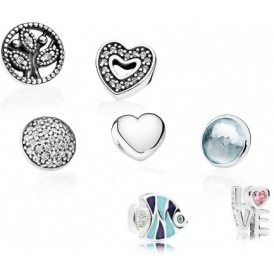 Pandora charms can be the perfect gift but they're a little expensive, so we made a Pandora Canada Sale Calendar to make it that much easier to find a Pandora charm on sale!
Check out our Pandora Canada promo codes now.
Here are the top Pandora Charms on sale right now:


Pandora Free Ring Event

January 6-7 - This is a super short promo, but it's very similar to the bracelet promo; essentially when you spend $125 or more, you receive a complimentary ring ($65 value).
Pandora Valentine's Event
January 14 - February 15 - Every Valentine's Day, Pandora launches special Valentine's Day Gift Sets that you can purchase on discount for the month leading up to the big day. Last year, the sets included the Open Hearts Bracelet Gift Set, the Pandora Loving Hearts of Jewelry, and the Pandora Love Struck Charm Set. The normal retail price for the gift set would be $230, but with the promotion, it's available for $195.
Pandora Bracelet Sale
March 19-22 - This promotion usually rolls out mid-March and it basically amounts to a free silver barrel clasp bracelet, bangle, or Essence bracelet when you spend $125 or more. They also offer a complimentary two-tone bracelet with a purchase of $550 or more and a 14kt gold bracelet with the purchase of $3,300 or more. That's a lot of Pandora!
Pandora Black Friday
November 24 - You can basically expect Pandora to release a limited edition charm for Black Friday; last year's was a red poinsetta charm and though the 2017 Pandora Black Friday charm hasn't been announced yet, it promises to be something special.
It's actually a smart idea to check Rue La La's Black Friday Pandora sale; they usually discount their Pandora selection by 50% during their Black Friday event; they offer international shipping for about $10 USD. Check out what Pandora charms Rue La La has on sale now.
Pandora Boxing Day Event
December 26 - January 1 - Straight after Christmas, Pandora launches its annual Boxing Week Event, where if you spend $100 on a single transaction on any Pandora purchase, you receive one free Pandora items up to a $75 value.
Where to Find Pandora Charms on Sale in Canada all year round
Right now Pandora Canada has select Bracelet Gift Sets on sale from $85. Pandora is my secret addiction. Okay – maybe it is not so secret. So I am definitely throwing this as a hard hint to my hubby as well.
Here are some of the sets at Pandora Canada that caught my eye:
Giving Pandora Charms as Christmas gifts has also recent become a lot more affordable. Pandora Canada has just launched their new line of Petite Charms - which start at $15.
The Pandora Petite Charms are designed to be worn exclusively inside the Pandora Floating Lockets - which are also a wonderful gift idea.
Here are some of the new Pandora Charms:
What are your favourite Pandora charms? What was the best deal you've ever found on them? Let us know in the comments below!
If you like this, you may like these...