VersaTile Coupon: Exclusive $10 Off 4-pc Custom Photo Marble Coaster Set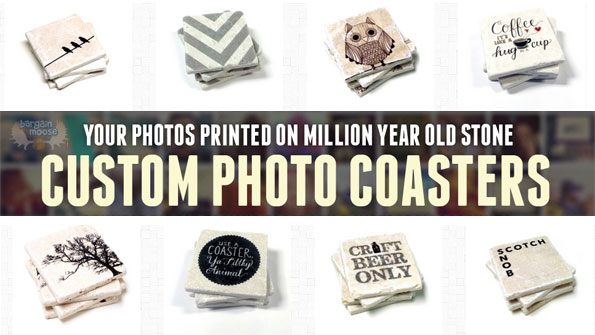 Print your very own pictures onto marble coasters and be sure to use our limited time Bargainmoose exclusive code to save $10 off the purchase of a 4-piece set at VersaTile.
Click here to design your own 4 photo marble coasters @ VtileDesign.com now
Coupon Code: VTMOOSE10
Discount: $10 off 4-pc custom photo marble coaster set
Expiry: 17th March 2014
With the immense popularity of Instagram, I guess it's no surprise that plenty of companies are popping up with ways to print photos onto various products. Although Boomf, a company that prints Instagrams onto marshmallows and which I wrote about back in December, still takes the cake in my book for creativity in this department, Versatile's idea is really cool regardless and one of those that could easily be used for just about any purpose.
For anyone planning a wedding, these could easily make for awesome wedding favours or if you have just welcomed a newborn into the world, then you could print pictures of him/her and give them away to friends and family. The latter idea is especially great for those holding a baby shower after the birth.
And although our Bargainmoose exclusive VersaTile discounts won't apply to stock coasters, keep in mind that they also have a variety of stock coasters available such as this absolutely lovely Trees of Life set or even the 'Dad's beer goes here', which would make for an awesome Father's Day gift (shopping early never hurt anyone!).
There is a special shipping fee of just $5 for all residents of Ottawa and $8 on all other orders. Plus, you can also choose to pick your purchase(s) absolutely free at their store in Almonte, ON.
What do you think about VersaTile's custom printing idea? Would you want your pictures printed onto coasters?