Toddler Beds From $40 @ Toys R Us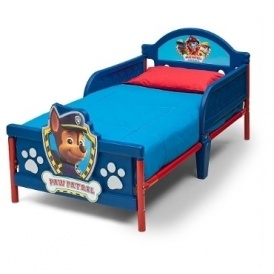 They grow up so fast, don't they? If it is time for a toddler bed (now or in the near future), then you'll want to shop at Toys R Us. Right now you can get toddler beds on sale from $39.97 - but with prices like this, I am sure the best options won't last long.
I am attending a wedding this weekend, and my son is having a sleepover at his Grandpa's house! Something like this Regalo My Cot Portable Children's Travel Cot would surely be beneficial for his stay. This cot is on sale for $39.97 and folds up easily for storage and travel. This cot is great for the in-laws house, camping, or whatever you can think of.
Paw Patrol. Need I say more? The Paw Patrol 3D Toddler Bed is on sale from $99.99 down to $79.97 and I bet all the kids will love it. I know my son has been obsessed with these little dogs for quite some time now. There are tons of other character beds available like Cars, Teenage Mutant Ninja Turtles, Minnie Mouse, Disney Frozen, and more.
Toys R Us Canada offers a $10 discount on shipping on most of these beds, and some of them qualify for free in-store pickup as well. With the $10 discount on shipping, it looks like my delivery rate would be under $9 which is more than reasonable.