Today Only! Le Creuset 4.1 L Traditional Pot Was $400 | Now $153 & Free Shipping @ Hudson's Bay **BUMP**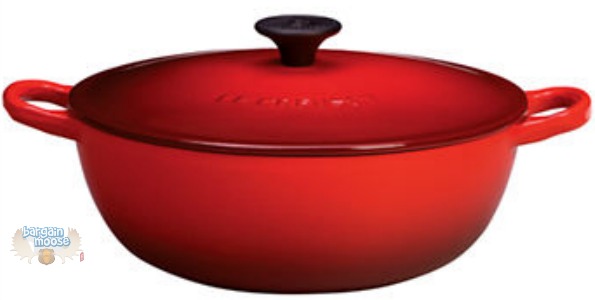 **Bumping this deal from Hudson's Bay that is now even that little bit cheaper. Use the coupon code FRIENDS to get another 10% off making the total for this item only $152.99.**
This daily deal got my attention this morning. I love Le Creuset! Check out the Le Creuset 4.1 Traditional Pot that was $400. Today only, you can snag one for yourself for only $152.99. This item also qualifies for completely free shipping.
I love Le Creuset pots and pans. The colours are so vibrant, it makes cooking a little more cheery. Le Creuset is known for having one of the top products on the market. The pots and pans give you an even cooking surface of a cast iron pot without the constant oiling and care that cast iron requires. That colourful enamel coating does wonders for making their pieces easy to clean.
On sale is the 4.1 L pot, which is perfect for spaghetti with meat sauce, stews and soups. These pots can go both on the stove top and inside the over, making them versatile. Brown your meat on top of the stove on medium heat, then add in veggies with a little broth and bake for a juicy dinner. We have the option of red or blue today, which is two out of the three colours this size pot is available in.
Price Comparison
I looked for this particular pot all over the web. I found this pot in cherry red on sale at William's Food Equipment for $229.99. Over on Amazon.ca I was able to find a comparable 4.2 Round French Oven pot for $255.52 in cherry red. There are other colours available but the prices climb even more. Your best bet is this flash sale today.
Reviews
There are no direct reviews on this particular piece at Hudson's Bay. Did you know Le Creuset cookware was featured on Oprah's favourite things list? Over at Serious Eats, there is a lengthy discussion as to if Le Creuset pans are worth the high retail prices. Here is one happy review from the Serious Eats thread.
I too would say well worth the expense. I for years coveted those pretty red pots...I have three sizes of dutch ovens and a little grill pan and I love them...love love love them...did I mention I love them?
I made that mistake of using another brand of enameled cookware once. I was given a no name piece of enameled cast iron from a friend. I quickly learned why my friend was "just clearing out some space in her kitchen." Even though the pot looked like Le Creuset, everything stuck to my pot horribly. Do yourself a favour and pick up the quality version you know will last today.
If you like Le Creuset, you may want to check out all the other options in the sale section today. Many other Le Creuset pieces are 30% off today. These pots make great gifts as they last forever.
(Expiry: Unknown)