The Bay Canada: 30% Off Dresses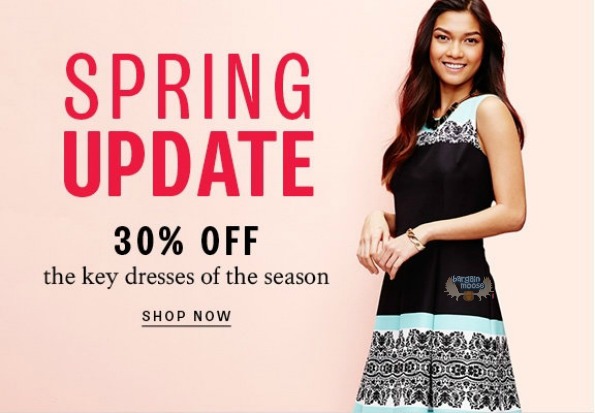 Get 30% off dresses and be prepared for wedding and BBQ season at The Bay.
I absolutely adore dresses. I would wear one every day if I had a reason. As a work at home and stay at home mom, I rarely have a reason to really dress up, but I do like to find those dresses that I can wear to the park or playgroup without people asking why I'm so dressed up. It is truly unfortunate that I have a job where I work from home because unlike so many people who love to go casual, I like to go dressy.
I love that this Bay sale is on the current Spring dress selection and not last year's makes and models or on a Winter selection. As I blogged yesterday in my post for the sale on men's dress shirts at The Bay, my husband and I have a wedding to attend this summer, and we need to look nice. I see a number of dresses that would be perfect. I also have a tummy, so I like to find dresses that flatter that area, not make people ask me when my #4 is due. Seriously people - this is a PSA - never ask a woman who is not in labour if she is pregnant. Never assume!
I absolutely adore this Calvin Klein denim look dress with notched lapels. I'm not sure if it is the one for the wedding, but I wish I had an occasion for this, as I'd buy it today. Was $139, now $97.30.
I think this Chaps floral print dress is beautiful and casual enough for everyday wear. Was $105, now $73.50.
Shipping is free on a $99 purchase, unless you want to use your Bay credit card, then you only have to spend $45.
(Expiry: Unknown)