Step 2 Lift and Hide Bookcase $81 with Code @ Sears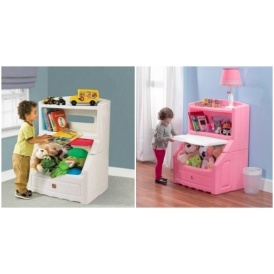 Here's a great storage solution for kids and it's 30% off! The Step 2 Lift and Hide Bookcase usually sells for $129.99 but Sears has it for $90.99 right now. When you enter the code 941612691 at checkout, you save an additional $10 making it just $80.99!
The bookcase is a neutral colour with a red lid but is also available in pink (for the same price) here.
There's a large storage area (toy box) with lid to keep the mess hidden and an open shelf for books and other items they might want to display. It's just over 3 feet high and simple, safe and durable for kids to use.
Almost every review is very positive; touting the bookcase as very durable and easy to assemble (a few people mentioned it was almost completely assembled when it arrived). It sounds like one reviewer got a bit of a lemon, though.
You'll want to have this shipped to your local Sears store or pick-up location as shipping is pricey—I was quoted almost $75.
Don't forget your coupon code at checkout: 941612691
(Expires: Unknown)