Sofia Royal Tea Party Gift Set Was $20 | Now $10 & Free Shipping @ Walmart.ca (EXPIRED)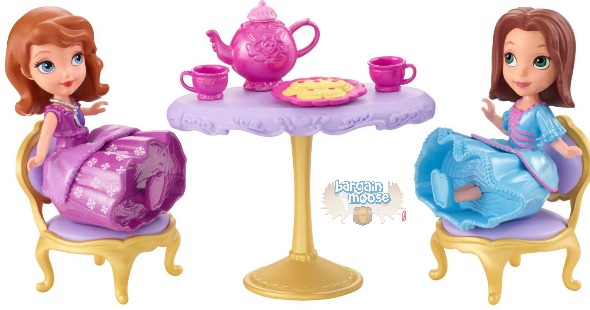 Sofia The First seems to be the craze for all the little girls lately. It also happens that the best prices on some of the Sofia The First toys are at Walmart.ca. For instance, the Sofia Royal Tea Party Gift Set is on clearance sale from $20 down to $10 at Walmart Canada right now, shipping is even included.
It seems that in every movie I have watched about princesses, the princess must learn proper tea party etiquette. Now your daughter and her new Sofia dolls can learn the tea party manners too. Sofia the First, princess of Enchancia, is learning to adapt to a wonderful life of royalty. Your child can help her adapt and learn how to be a princess too.
If you didn't think the $10 price tag was hot, take a look at other retailers selling this Sofia Royal Tea Party Gift Set. You can purchase this Sofia The First toy set @ Amazon.ca for a whopping $37! You definitely won't want to pay that price after seeing the clearance price at Walmart Canada.
This Sofia the First play set includes both the 3 inch Sofia and Jade dolls as well as a regal tale, chairs and of course their teatime accessories. If you also have the Sofia The First's Magical Talking Castle (sold separately), these particular dolls can unlock phrases within the castle.
I have read some complaints in the reviews about the heads popping off of the dolls quite easily. If you are purchasing this, make sure your child is at an old enough age that this won't pose a choking hazard. I also read that the dolls are hard to balance on the chairs, which also gives me the sense that this play set is probably best for children 3 and up. Here is one of the customer reviews for this product:
I bought this Sofia the First set for my 7 year old daughter and she is very satisfied with this set. Sophia and Jade can sit on their chairs if you try hard enough. The only bad thing about it was Jade kept slamming into the table. Other than that, it is a very nice set.
It sounds like Jade may have spiked her tea, which could have been a result of her head constantly popping off. I mean, how else would you deal with a symptom like that? Wine solves everything.
One of my favourite features when it comes to shopping online at Walmart.ca is their shipping policy. You can spend $0.01 or $1000 and you will still receive free shipping no matter how big or how small your product is. This makes hot deals even hotter since you don't have to take any shipping fees into consideration.
(Expiry: Unknown)