Sears Outlet Coupon Code For 40% Discount TODAY!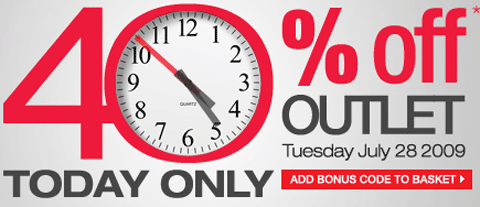 Great deal today only at the Sears outlet! All the items in the clearance section are reduced by a further 40% when you apply the Sears coupon code below!
[blogcoupon name="Sears" code="941 612 395 " url="sears.ca" discount="40% off clearance items" expiry="28th July 2009"]
When you click through, you'll see a banner at the top about the 40% outlet sale. Click that, and apply the deal to your cart, by clicking "add bonus code to basket." You will then see the discounted price at the final page of the checkout, providing your item is eligible for the extra discounts. You can see there is a bit of small print on the page, the deal excludes appliances, etc.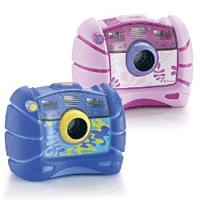 Some examples of items:
You can get this great kids digital camera (pictured right) for only $33.57 when you apply the Sears bonus code! Search for item Number 06356592309 to see it. This would be a brilliant little gift for a kid's birthday or Christmas.
If you need a few items for the home, check out the bed and bath section. They have loads of towels, sheets, rugs, duvet covers, bathmats... everything you need for the home, and at pretty reasonable prices - even more so with the extra 40% discount!