Sears Outlet Coupon Code: Extra 25% Off 3 Days Only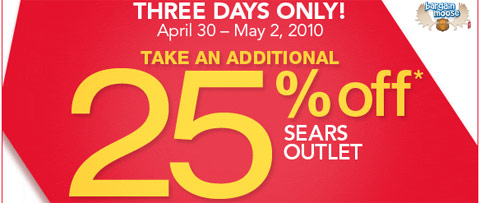 For the next few days only, you can get yourself an extra 25% off purchases from the Sears outlet online. Here are the details:
Click here to use the Sears outlet coupon code online
[blogcoupon name="Sears" code="941 612 593" url="sears.ca" discount="25% off outlet" expiry="2nd May 2010"]
Some terms: Total merchandise before taxes and applicable charges. Limit one Bonus Offer Number per order; cannot be combined with any other bonus offer number. Non-negotiable, transferable or redeemable for cash. Offer valid on items on sears.ca/outlet only. Excludes major appliances, sewing machines, and vaccuums.
They usually have quite a few bargains in the Sears outlet, but stocks tend to be limited - so order while you can. I was having a quick browse, and how cute is this Shrek radio!