Sears Outlet Canada Promo Codes: Save 30% Or 40% With Sears Credit Card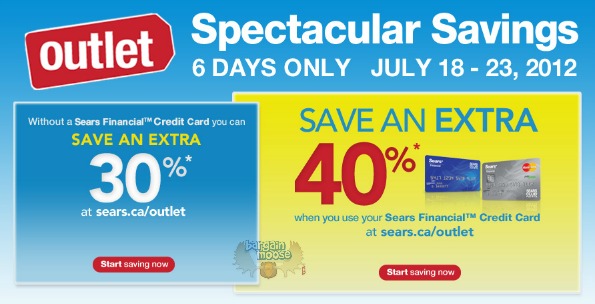 Sears Canada Outlet is offering promo codes for savings of 30% at Sears Outlet, or 40% at Sears outlet with Sears Credit Card. Promo codes are entered at checkout. Offer is valid on select items only and expires July 23rd 2012. This offer is exclusive to outlet purchase and cannot be combine with any other bonus offers.
[blogcoupon name="Sears" code="941612657" url="sears.ca" discount="30% off" expiry="23rd July 2012"]
[blogcoupon name="Sears" code="941612658" url="sears.ca" discount="40% off" expiry="23rd July 2012"]
This offer includes, clothing, toys, footwear, luggage, bedding, towels, bathroom accessories (except hampers) and blinds and curtains. There are some exclusions but you can read the full list on the above link.

You really have to be careful with these offers as there sometimes are a lot of stipulations to them. I am so disappointed when I see a great sale offer and the item that I want is not included.
It seems that quite a few of the qualified items in clothing have very limited sizes left available, but I did finally find these I Love Comfort Women's Jerrie Peep-toe Pumps still available in my size and preferred colour. They are listed at $39.94, regular price of $79.99 and a further discount of 30% at check out, so I only pay about $28.
There were only 2 items available in luggage and I really didn't like either one. The bath towels had only 5 choices, but I thought these Manor Essential Home Bathtowels looked like a great deal at $5.94 each.
The bedding didn't have much left available in the queen size that I require, but there are some nice things for sale, so check it out yourself.
The prices for items available are very good deals, but finding something you like, that is available in colour or size you require, or even qualifies for sale can be a little frustrating. Worth a look, but make sure you have a little time on your hands, it could take a while.
Don't forget your promo codes for discounts at checkout.
Shipping: Standard shipping for smaller, soft good items is $7.95 depending on order size and location.
(Expiry: 23rd July 2012)