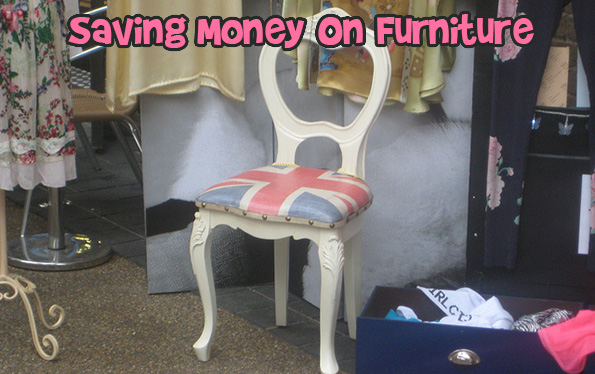 Let's face it: anything outside of Ikea furniture is expensive. When you're furnishing your first place, Ikea furniture obviously makes sense. It's cheap, it looks good, and everyone likes it, therefore they won't judge you for being cheap with your furniture.
However, as you get older, buy a home, and are supposed to get more "grown up" furniture (or not, Ikea furniture is still good), you want to be able to have tasteful things in your home, but not for the high price. No, you don't necessarily need to buy that $4000 La-Z-Boy couch, and you can get a nice non-Ikea couch for half that price.
There are a few considerations you need to make before you "invest" your money on furniture (not to mention the time spent hunting for it). Are you planning to move any time soon? If there is any possibility that you may be moving across the country or to another city, you might want to reconsider spending so much on that piece of furniture. Either you will have to sell it, which may be difficult depending on how organized you are, or you will have to move it to your city or province of destination which can be very costly, despite the ability to write the moving costs off for tax purposes.
Here are a few tips on how to save money on furniture:
Buy Used When You Can
I am a huge proponent of buying used furniture because it saves that piece of furniture from being thrown in the landfill, you usually get to buy the furniture already assembled (which is a major plus for certain Ikea pieces), and you get to acquire the furniture at a discount of 30% to 50% off the regular retail price for the most part.
Places to look for used furniture are Craigslist.ca and Kijiji (as we've talked about in length before). Freecycle is another option for used furniture. When shopping and answering or replying to ads, make sure that you call if there is the option (versus leaving an email message) because this helps keep the seller accountable. Unfortunately, with free ads like this, sometimes the sellers (and sometimes the buyers) can be flakey, so be aware.
Opt for Multipurpose Furniture
If you're short on space as well as money, invest in furniture that can serve dual purposes. Some examples of multipurpose furniture are sofa beds, coffee tables that can convert to dining room tables (only if you are very short on space), or seating that has storage space underneath it. Captain beds (beds that have storage drawers underneath) are great as well.
Ask for a Discount or Wait for a Sale (on Big Ticket Items)
Probably one of the easiest ways to save money on furniture is by asking to see if there is a discount available. Oftentimes the sales personnel are hungry for a sale and will gladly give you a bit of a discount, especially if you purchase a few items. Note, this strategy only usually works at smaller furniture shops and does not work at Ikea!
If you can, wait for a sale to come around for a piece of furniture that you really have your eye on. Wait for a sale (or ask the sales staff when the next sale might be). For my La-Z-Boy L-shaped couch with chaise, I saved $1000 off the price because of a friends and family sale. Although the sales staff stayed late in order to ring in the purchase, they were happy because they were able to make a sale and meet their sales target/quota for the day.
Shop on Amazon.com (and now Amazon.ca)
Amazon.ca isn't what is used to be and isn't simply limited to books and CDs. They have recently added furniture as well, and there is a plethora of furniture options available. Most items include free super-saver shipping for orders over $25. With Amazon.com, shipping it to the shipping depot across the border can be a great way to save on furniture costs. Even if you have to pay duty and taxes, you can still save a decent amount. There are lots of items that can be purchased for cheap that can be easily packed up and put into your car. This includes bar stools, bedside tables, and even foam queen sized mattresses. Some items have great reviews and instead of paying $2000 for a foam mattress at a mattress shop, you can get one for $500 neatly packaged into a box that you can easily pick up at the border.
Furniture is expensive, no doubt. Therefore, saving money on the smaller pieces of furniture (for example bedside tables or bar stools) that don't matter as much to your home decor can help you save money for the bigger ticket items that matter more.
Bargainmoosers, do you have a piece of furniture that you proudly saved money on?
(banner image credit: AndyRobertsPhotos)