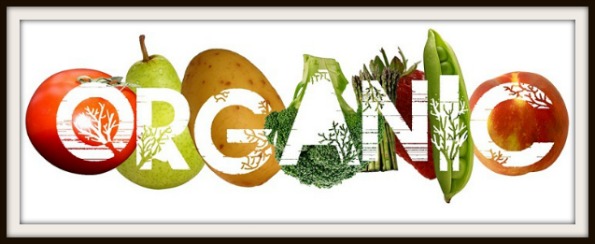 We all know that eating organic is better for us (really, who wants mashed potatoes with a side of pesticide?), but because organic food is expensive, we often don't opt to make this lifestyle change. Same goes for organic products.  Shampoos, conditioners, and body wash all contain chemicals that aren't so great for our bodies, but oftentimes, USDA approved organic hair and body products are 30-50% more in price.
With the economy still recovering or flatlining, healthy habits and changes often go to the back burner due to cost.  However, here are a few tips on how to save money on organic stuff so that you can make that change towards healthier, cleaner living.
Organic Produce on the Cheap
Organic produce is expensive, there's no doubt about it.  To offset this, you could try growing your own organic food or you can opt to buy organic produce only when it matters.  For example, did you know that organic bananas are a bit of a moot point?  Do you know why?  See the Bargainmoose post eating organic on the cheap for more information.  To summarize, buy organic produce especially for the fruits and vegetables that fall in the "Dirty Dozen" category.  To see a list of the amount of pesticide content for each fruit and vegetable you usually buy, go to Foodnews.org for a great list.
You could also grow your own herbs.  Herbs are notoriously easy to grow and they make your food taste better (without having to add salt, which is bad for your heart health), it's a win-win situation.
 Organic Foodstuff on the Cheap
Whole Foods isn't called Whole Paycheque for no good reason.  According to CNN Money,  buying at Whole Foods (even though it is wholesome and good for you) can be quite pricey, hence the nickname "Whole Paycheque".  Although Whole Foods is trying to change that acquired nickname in recent news, there are people who like shopping there despite the cost.
Shoppers Drug Mart has a great organic brand called Nativa that makes very reasonably priced organic food.  Things like chocolate, coffee, chips, olive oil, and cookies are all 100% certified organic. For example, organic quick oats instant oatmeal is $1.99 on sale a lot of the time.  They also have chips and other not-so-good-for-you-despite-being-organic foods.  The great thing about Shoppers Drug Mart is that you can use your coupons without looking silly (like you probably would at Whole Foods since people who shop there probably scoff at coupons).  They have bonus redemption weekends and 20x the points events.  All the more reason to use your points sooner rather than later.
If you live near the border, Trader Joe's is great alternative to Whole Foods.  They have almost 400 stores in the United States and although they are mostly in California, there are some in Washington for the west coasters.  They have cheap wine (including the famous "Two Buck Chuck" wine for $1.99) and 80% of the products they carry in store are "house brand" products.  They go through rigorous sourcing of manufacturers for their products to ensure that everything is natural, fair trade, and not from China.
Organic Beauty on the Cheap
According to Organic Authority, conventional shampoo and conditioner products contain harsh chemicals that can strip the the hair of its natural beauty.  Conventional shampoo and conditioner products often contain pthalates.  Pthalates help make the foaming/sudsy sensation but can wreck havoc to your body.  Pthalates are dangerous because they have been shown to damage the liver, kidneys, lungs, and reproductive systems in animal studies.
Well.ca is a Canadian online only pharmacy (minus real prescriptions) that houses tons and tons of organic products. They give you free shipping if you order more than $25 worth anywhere in Canada.  They have a great clearance and sale section where you can score cheap organic beauty products.  Bargainmoose has a great post that updates you on the latest coupons and sales from Well.ca.
Also, if you're in the neighbourhood, Trader Joe's also carries some great house brand shampoo and conditioner products for the cheap.  For example, I bought a 473mL  Citrus Conditioner with vitamin C for about $3.  Mind you, the ingredients list contains parabens which are no good in the organic world, but I'll give it a try anyway :)
Bargainmoosers, do you have any other must-shop places for organic food and beauty on the cheap?
(Image Credit: GreenPlus)