Little People Disney Ariel Playset Was $40 | Now $27 @ Walmart.ca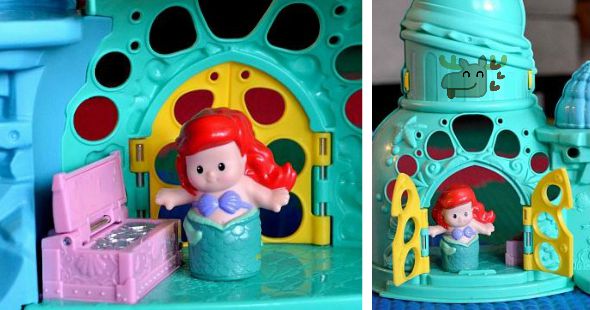 Does your little girl need some additions to her Little People play world? Check out this Fisher Price Little People Disney Ariel Playset on clearance sale at Walmart Canada. For a limited time you can snag this adorable little popular Disney character set for just $27 as opposed to the regular price which was $39.97. Be sure to explore your options for shipping from Walmart.ca so that this deal works out to your best advantage.
Little People toys from Fisher Price are an amazing way to teach children to have an imagination. They are also safe for pretty much all ages. My three year old son just loves them, and has ever since he was about 6 months old. He has pretty much every set imaginable for a little boy, and man these toys can rack up costs. That is why it is so nice to see Little People play sets at a discounted price. The Little People Disney Ariel Playset is so adorable for any little girl, and it will only cost you $27. You know as well as I do that these toys last years unless the dog gets a hold of them. My brother is 15 and my mom passed on his Little People toys to my son and they are in fabulous condition. But that means they were about 13 years old when we received them - just wow.
With this Little People Disney Ariel Playset, your child can explore Ariel's Underwater Grotto. If your child has ever watched the Little Mermaid Disney movie, then they will automatically fall in love with this charming little set. Ariel's little hide out is styled like a sea shell. You can open it up to take a look at Ariel's living quarters and to explore each of her cute little rooms. This play set also comes with two figures: Ariel and Sebastian of course. They come with a carriage, a shell bed and 2 magical little chairs.
There are a few different shipping options to consider when shopping online at Walmart.ca. First, you can get free shipping directly to your front door when you spend $50 or more. If you don't spend $50 or more then you should choose between having your item sent to a local Grab & Go Locker if your Walmart store offers that, or you can have your purchase shipped to your closest Canada Post Office for free as well.
(Expiry: Unknown)