Kids' Stevie Ergonomic Desk and Chair $170 + Free Shipping @ Costco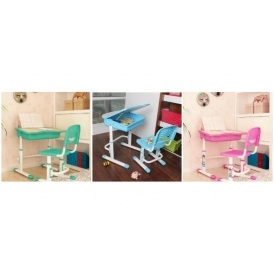 What a great idea... and a great deal! This Stevie Ergonomic Desk and Chair that's been designed to help kids adopt proper posture is $40 off at Costco. It's available in three different colours to suit most kids' decor plus shipping is included in the price of $169.99.
Recommended for ages 3 to 12, the rounded corners and soft edges make it safe for little ones and the adjustable features allow it to grow with the child.
The desk can be adjusted between 21" and 30" high; it has a storage area for books, supplies and paper, a pencil groove, a hook for their schoolbag and a small book holder. The seat height can be reaches between 12" to 18.5" in height and the backrest is also adjustable.
The Stevie Ergonomic Desk and Chair sets have great reviews across the web. Each reviewer on Costco.ca gave it 5 stars; their kids love it and they love the size customization.
This great price from Costco ends today so jump on this deal while you can!
(Expires: 27th March 2016)