Jysk Coupon For 20% Discount On $100 in-Store!
If anyone is going to buy some new furniture, and has a Jysk store nearby, this deal might be very useful! It's a Jysk discount coupon for a 20% reduction on a $100 spend.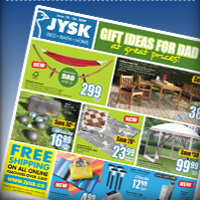 Just bring the coupon in-store to Jysk and claim your discount!
P.S. I'm posting this in advance, even though it doesn't start until the 1st to the 15th July 2009. Just giving you a heads-up!