Home Depot Canada: 20% Off Underfloor Heating + Snow Melting Products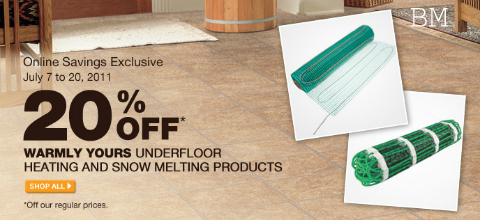 Home Depot has an online exclusive sale: get 20% off Warmly Yours underfloor heating and snow melting products. Search "Warmly+Yours" (include quotations) to find all the products that are 20% off: there should be 108 of them.
Right now the Home Depot is also offering free shipping on orders of $299+ on most orders, a good time to be making a purchase online.
For example this Warmly Yours 240 Volt Snow Melting Cable – 107 Square Feet regularly would cost you $810 but is now only $648, with free shipping.