Home Depot Canada: 15% off Installation and Doors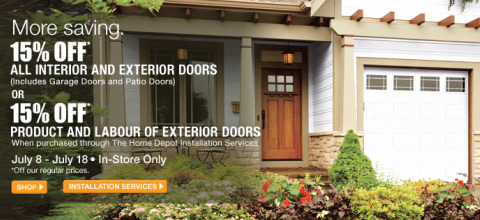 Home Depot Canada is offering savings for people wanting to get some renovations done, or for the do-it yourselfers:
15% off All interior an exterior doors (includes garage doors and patio doors) OR
15% off product and labour of exterior doors (when purchased through The Home Depot Installation Services)
Thats 15% off their regular prices, and is an in-store offer ONLY. It runs from July 8 - July 18th. I'm posting because, being a carpenter's daughter, I know how pricy doors and door installation can be and a 15% discount can save you quite a bundle!
Happy home renovations!