Home Depot Canada: 10% Off Bathroom Updates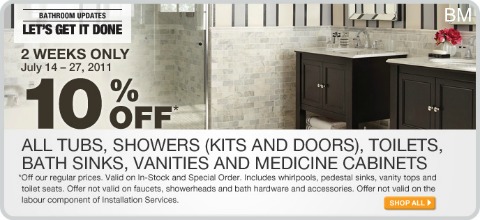 Receive 10% off tubs, showers, toilets, bath sinks, vanities and medicine cabinets for 1 more week at Home Depot. If your purchase is over $299 you will also qualify for free shipping!
Search for "tubtoiletvanity" to find all discounted products. Include quotations. :-)
Speaking of thrones, you get 10% off this Kohler Cimarron Comfort Height The Complete Solution Elongated 1.28 GPF Toilet With Class Six. Regularly $349, now $314.10. I am thinking about toilets lately because a friend of mine has been having so much trouble with hers. If there is anythong of any substance in the bowl the toilet backs up terribly and plunging has little effect. Sometimes plunging sends the stuff into the bathtub. :-o She has some serious plumbing problems!
Expires: 27th, July 2011