Flash Sale: 70% Off Springwall Euro-Top Sleep Set @ Sears | Today Only!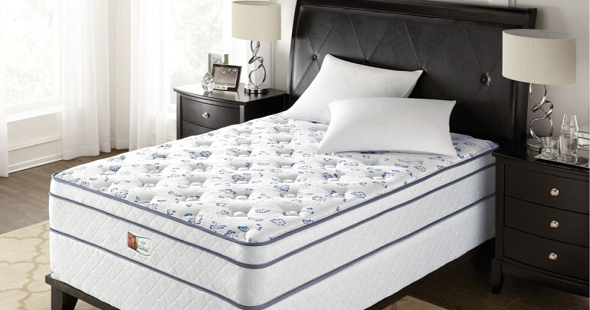 Moosers! What a crazy deal this is! If you've been on the hunt for a new mattress, Sears has an incredible Flash Sale today on the Springwall 'Crystal' Euro-Top Sleep Set. Starting at just $227.99 for a twin, save 70% off the original price!
**Edit: thanks to Mooser, Chris, for pointing out that the current coupon code for $50 off $200 (941612558) is applicable to this Flash Sale saving you an additional $50 or, as Chris pointed out, essentially making delivery just $19.95! So don't forget to enter 941612558 at checkout and thanks again, Chris!**
The 70% savings is the same regardless of which size or type (Firm or Plush) you select. A Double Sleep Set is $269.99, regularly priced at $899.99.
Queen is probably the most common bed size for the average couple and during today's Flash Sale, the Queen Sleep Set is only $319.99. The everyday price of the set in this size is $1079.99! If you've got room for a King, even better! More square footage for the kids and the dog and cat, right? The King Sleep Set is $539.99, regularly $1799.99.
This mattress sounds heavenly. Each type has a 1/2" memory foam layerplus added BioComfort foam layers. The firm has 2 additional 3/4"  layers while the plush has one additional 1/2" layer. It includes a quality-made 9" box spring and 10-year warranty. Check out some more specs:
10" thick continuous coil mattress with 14 1⁄2 gauge construction, double edge guards, twin with 418 coils, double with 608 coils, queen with 720 coils and king with 920 coils
Comfort layers include 1⁄2" Bio Trizone Visco memory foam, firm has 2 layers of 3⁄4" Percell® BioComfort™ foam and plush has 1 1⁄2" layer of convoluted BioComfort foam
Insulator pad, 2 quilt layers include 1⁄2" Biofoam™ and 20-oz. hollo fibre
Made in Canada using domestic and imported components
If you wake up tired and achy and sleep better away from home, it's probably time to replace your mattress. The average (recommended) lifespan is about 10 years; 5-7 years as we get older because our bodies tolerate less pressure.
There is one review of the mattress set at Sears.ca and it's a 5-star. The writer is very pleased with the quality and states that it was even made-to-order based upon the manufacturing dates on the tags being the day after he purchased. What service!
Even though Sears usually offers free shipping on orders over $49, this large an item does not qualify. I was quoted almost $70 (I believe their standard truck-delivery charge) which, all in all, is still an amazing deal but if you have the means to transport it, you'll definitely want to opt for the free pick-up at your local Sears to maximize the savings!
Hurry, this sale ends tonight and I don't want you missing out on these prices if you're in need of a comfy new bed.
Which one are you going for, Moosers: Firm or Plush?
(Expires: 18th January 2016)