Disney Toddler Beds On Clearance For $37 @ Walmart.ca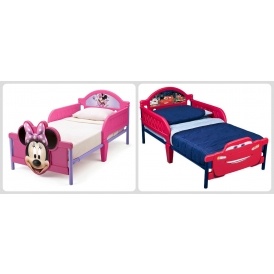 Okay, this is crazy. If you are shopping for a toddler bed anytime in the future—get one now. Walmart.ca has two Disney Toddler Beds on clearance sale from $72.97 down to $37. You will never see that price! My son has the Disney Cars Toddler Bed and I can honestly say that it is sturdy enough for even me to sleep in. Thirty-seven bucks is a crazy price. Don't miss out!
There are two Disney Toddler Beds on clearance here so we can keep either girls or boys happy. My son has the Cars version, and there have been several nights where I end up curled up in that bed, passed out with him. So needless to say it can hold my weight (about 120 pounds) plus my son's weight (about 40 pounds). Though the description says a max of 50 pounds. I guess I like to live on the edge... of the bed.
I did end up buying him a more comfortable mattress after the first night I slept in there though. Really, $37 is a steal. All the other Canadian retailers are selling the very same beds for $80 and up.
If you also need a mattress - grab this Simmons Maxipedic mattress which is on sale from $68.86 down to $48. It is a 2-in-1 so can go from ultra soft to firm just by flipping it over. By purchasing the bed and mattress, your cart will total over $50 and your shipping will be free.
I have this toddler bed as my son's regular bed, but it would be perfect as an occasional bed too—maybe at your in-laws' house or the cottage?
Walmart.ca offers free shipping on orders over $50. Unfortunately this item does not qualify for free pickup at your local Canada Post Office or Walmart Canada Grab & Go Locker. Although, some stores do have these beds at this same awesome price so you can always opt for that.
(Expiry: Soon!)