Disney Fairies Tropical Party 4 Pack Just $5 @ Walmart.ca (EXPIRED)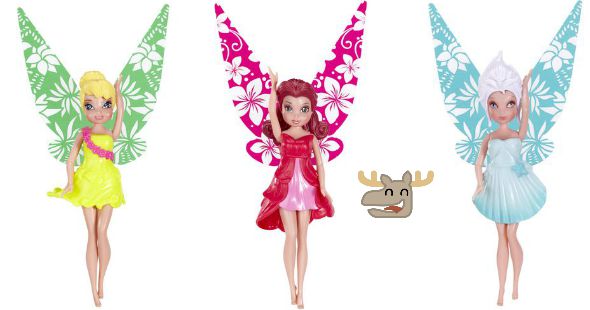 Every little girl loves the Disney Fairies, and now you can snag a 4 pack of these popular characters for just $5. These fairies were last priced at $10 at Walmart.ca, so you are saving 50% off the most recent price which was also discounted. Walmart Canada has a few different shipping options available for a purchase this small.
This Disney Fairies Tropical Party 4.5" 4 Pack is quite a steal at just $5. Walmart Canada has put these little fairies at such an affordable price, that even I want to purchase them to hang from my rear view mirror or something. There are 4 dolls included in this set with 4 different outfits and 4 sets of wings.
At first when I read that these were Disney Fairies, I wasn't sure which characters they are. Now I realize that the fairies are Tinkerbell and 3 of her friends. They are all wearing tropical themed apparel that is inspired by items that could wash up on the beach shore.
These dolls have great reviews. Both reviews from the Walmart Canada website state that the dolls were great fun for their kids. You can even switch the dresses from doll to doll to change things up. You can change their wings as well, but one review says that the wings are delicate feeling so I suggest you be a little careful with them.
Amazon.ca sells this very same pack of Disney Fairies for a whopping $28, mind you their price is most likely inflated. Either way, $5 is a fantastic price for this little pack of cuties. These toys are best suited for kids aged 3 - 5, but I am sure little girls that are a bit older would enjoy them just the same. I wouldn't suggest them for younger kids though, as I feel the wings and such can come off and be a choking hazard.
Walmart Canada does offer free standard shipping on all orders over $50, but that may not be your first choice if you are shopping online. If you don't spend $50 then you have two other shipping options of course. You can opt to have your parcel shipped to your local Canada Post Office for free, or you can have your purchase shipped to a Walmart Canada Grab & Go locker if your area has them.
(Expiry: Unknown)