Canadian Free Stuff: Walmart Canada Free $20 Gift Cards!
In conjunction with Procter & Gamble, Wal-Mart Canada are doing a great offer on a free gift card. If you purchase $50 or more of applicable P&G products, they will reward you with a free $20 gift card to spend at your local Walmart store!!
Here's how:
To receive your $20 Wal Mart Gift Card by mail, send in your cash register receipt(s) dated between November 1 to December 31, 2008 with the participating products circled accumulating $50 (before taxes). Offer valid in Canada only.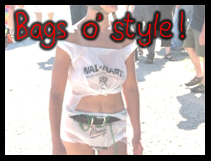 Then print and fill in this form and mail it to this address:
Wal-Mart Health & Beauty Gift Card Offer

Box 12276

St.John NB

E2L 5E7
I'd find it really easy to spend $50 on these types of items in Walmart stores! The list contains: Pantene, Olay, CoverGirl, Clairol, Oral-B, Old Spice, Always, Tampax, Ivory and Gillette products. The Gillette products in particular are always expensive – the Mach 3 razor blades for my partner would go a huge way to making up the minimum spend of $50. Here's a thought - how about buying a few Clairol Herbal Essences items and putting them towards getting a free haircut as well!!
It does also say that it doesn't have to be on a single purchase – multiple receipts are accepted!! So even if you wouldn't spend that amount on Proctor & Gamble beauty products all by yourself, why not ask family & friends for their receipts so you can take advantage of this offer?
Thank you for the image Crazy climber.