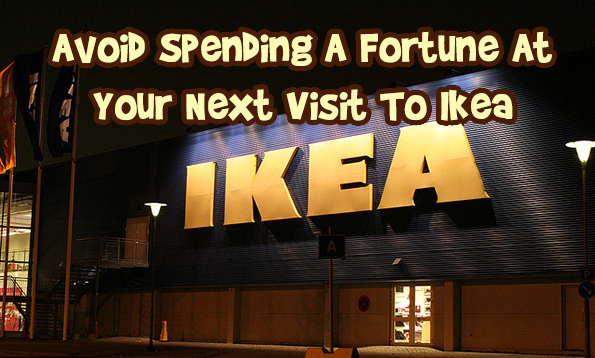 There's a reason why Ikea is so popular.  Ever since I was a child, I used to be obsessed with looking at the Ikea catalogues. I'm still amazed at the beautiful layout and design ideas that the catalogue pages depict.  From the marketing design to the free children's playroom (which I loved as a kid, by the way) and very economically priced hot dog and soft serve ice cream, the trip to Ikea is designed for you to invest your time and money. I think that most people agree: it can be very hard to get out of Ikea without spending any money.
Here are some ways in which you can save money during and after your next trip to Ikea:
Go With a Plan (and a List)
One of the easiest ways to spend money is through the slow meander through the display area in Ikea.  According to the Globe and Mail, the average shopper spends about two hours wandering through Ikea.  This is not surprising since the average size of Ikea is akin to roughly six football fields. The strategically placed items are meant to make you buy on impulse (all those cute things near the cashier are meant to make you impulse buy).  I found it very interesting that on average, 50% of customers who shop through Ikea purchase something, which is much higher than the average women's wear boutique, per the Globe and Mail article.
If you head to Ikea and plan your purchases beforehand, you could head through those six football fields with less temptation and more direction. You will head straight to the warehouse section, find your aisle and get out of there without buying a lamp, a terrycloth stuffed animal, or some kitchen utensil that you probably do not need.  This article from The Consumerist concurs that the Ikea business thrives on add-on sales.
Take Advantage of Sales
If you sign up for their mailing list, you will get to know firsthand when the bedroom collection or bathroom collection goes for 30% off.  Unfortunately it's a little bit of spam, but considering Ikea stuff rarely goes on sale, this might not be a bad idea.
In addition, Ikea has Wacky Wednesday sales where they have an item that goes on sale for a very reasonable price. It does mean making a trip out to Ikea during a weekday, and sometimes the items are not necessary (meaning it would also be an impulse purchase if you bought it).
Finally, head to the As-Is section of Ikea.  The mark downs tend to be very generous and very reasonable.  Best yet, the As-Is section is full of items that are already assembled for you (that Allen Key is the bane of a lot of people's existence, I'm sure). One person's dislike is another person's treasure, isn't it!
If You Live in the States...
In the American Ikea stores, you can sign up for a $25 coupon if you spend more than $250 and are planning to move. In addition, if you sign up for the Ikea Friends and Family Program you can get a free cup of coffee and get information on the special discounts just for members. It is free to join. I don't think we have any great deals like this in our Canadian Ikea stores, but hopefully in the future there will be.
After Your Visit
After your visit to Ikea comes the dreaded task of assembling the furniture with the aforementioned Allen Key.  I found that it was useful to pay someone (I found someone on Craigslist) to do it because it saved me time and frustration. For me, I could spend my time being more productive as opposed to spending hours trying to assemble something properly.
However, asking your friends to help out (handy friends, might I add) is a great solution too!
Get Some Ikea Hack Ideas
If you are bored with your Ikea furniture and want to make it a bit more unique, especially since everyone is buying the same furniture, head to this great website called Ikea Hackers.  It is filled with creative and easy ideas to make your Ikea furniture a bit more unique.
Bargainmoosers, how do you save money at Ikea?
(banner image credit: kaktuslampan)