Aspirin: $6 Printable Coupon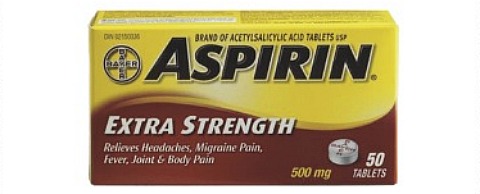 Use this printable coupon to save $6 off any Bayer 325 or 500mg Aspirin purchase until the 30th of September, 2011.
This is a great coupon as Aspirin is usually on sale for less than $6. For example, you should be able to find it now at Wal Mart for $3.67 for the 325mg (24 tablet) size and $4.97 for the 500mg (50 tablet) size. With Wal Mart's new coupon policy, this means you'll actually make money buying Aspirin! With the $6 off coupon, you'll get $2.33 back if you buy the 325 mg (24 tab) size and $1.03 back if you buy the 500mg (50 tab) size. Of course, you don't have to shop at Wal Mart, you'll probably find it for less than $6 at other stores as well.
Even if you don't use Asprin, chance are some one in your family, maybe your parents or grandparents probably does, so make sure to share this deal with them!