1-800-GOT-JUNK Coupon Code: $10 Off Removal with Online Booking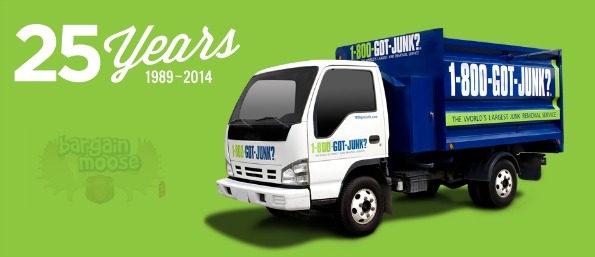 Spring sprung just a couple days ago, did you notice? Now is the time to start cleaning out that overstuffed garage or that dingy basement. They do call it spring cleaning for a reason! If you have any larger items, or just too many items to take care of hauling away yourself, try booking 1-800-GOT-JUNK to haul away all your old items that you no longer use. When you book online you can use the following coupon code and get $10 off your removal.
Click here to book your junk removal @ 1-800-GOT-JUNK.com now
Coupon Code: 10OFFGJ
Discount: $10 off removals when booking online
Expiry: Unknown
Every spring I get the cleaning bug. I start to go through my closets, my dressers, my storage rooms, and practically everything! I weed out what hasn't been worn since I can remember and what no longer fits. I also try and eliminate anything that is broken and all those things that were saved with the promise of 'I will fix it' and it just never happened. It is harder to get rid of the bigger objects because they really shouldn't be thrown into a garbage bin. Mattresses, standing lamps, old dressers, and sofas all need a proper disposal. Thankfully 1-800-Got-Junk takes all of that and more! Here is a list of some of the things they take:
Appliances
Mattresses
Furniture
Carpets
TVs
Tires
Hot Tubs
Scrap Metal
Computers
Printers
Monitors
This is all stuff a lot of people have difficulty getting rid of. It is nice to know a place that takes it. Start your spring clean today and recover lost square footage in your home.
For this and any future 1-800-GOT-JUNK Promo codes check out our forum.