Stag Shop Canada: Costumes Only $14.99 (NSFW)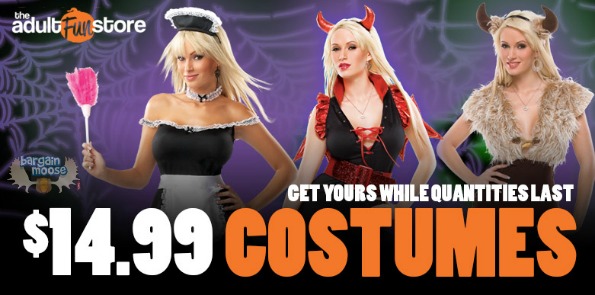 You might be making your adult Halloween plans now and have an idea for a costume. If you aren't too picky about what you'll be, consider getting a costume for only $14.99 from Stag Shop.
My husband and I are considering having an adult Halloween party at our house this year. Last year I held a kids Halloween party for the neighbourhood kids and I tell you, it was fun, but children are messy, loud and give me a headache when there are 50 of them in one room in my house. Adults on the other hand I can handle a little better, especially when they are dressed up in funny costumes. I personally like to wear sexy costumes, and the Stag Shop is the place to get those.
This flapper costume is sexy but tasteful and brings me back to the 1920s. Was $69.99, now $14.99.
The mob girl is a little more flashy and perfect for a night out at a bar. Was $63.99, now $14.99. Take him with you as a classic gangster for only $49.99, was $14.99.
Get free shipping when you spend over $75 or you could use our exclusive Bargainmoose coupon.
(Expiry: Unknown)