Ren's Pets Depot Canada: PetPaint only $12.99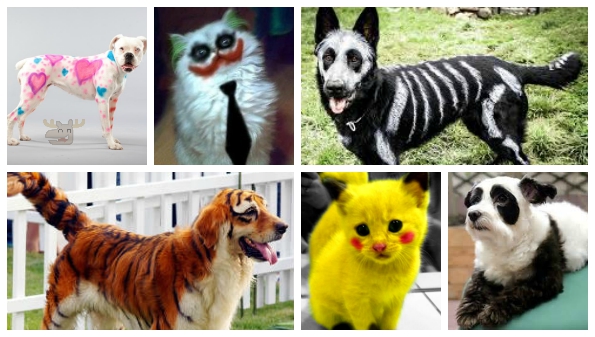 This product is nearly impossible to find in Canada, so I was delighted to see that Rens Pets Depot Canada carries PetPaint. What is PetPaint you ask? PetPaint is hair spray for pets that is safe for the fur and the tongue of dogs and cats everywhere. Ren's Pets currently sells this paint for $12.99 per can with many colours currently available. Receive free shipping on orders of $60 or pay market rates (ouch) under that.
This is the cheapest I could find this paint in Canada. Shop.ca sells each bottle of paint for $20.99 and the cheapest you can find them on eBay Canada is $20.02 before shipping. Do not even look at Amazon Canada, spray cans there start at $40+. Given that this is the most wicked Halloween costume option for your pet, I could not resist sharing this with you.
If the above images are any indication, you can do practically anything with this paint. Buy white or black paint and turn your dog into a skeleton. My favourites are the cat turned into a Pikachu and the dog turned into a tiger. I do have to say that The Joker cat is super creepy. If you are going for creepy, then take inspiration from that cat. I think the coloured pet hair spray would probably work best on digs who actually listen (and might stay long enough for you to finish) than cats who tend to do whatever they like. I know my cat would not be impressed if I was to take a spray can to him.
One reviewer had a great tip:
Awesome product will allow you to put a stencil on a dark or black colored dog, place this [white] on prior to other color for enhanced effects.
Now, you can freehand your own stuff or you can buy stencils to go with your cans of PetPaint. Stencils will run you $5.99 each. Now, you will want to hit that $60 minimum for free shipping as market rates are painful! But given that a can of paint is $7 less here than anywhere else, this is still a great deal.
(Expiry: Unknown)