Oya Costumes Canada Coupon Code: $5 Off $50 + Sale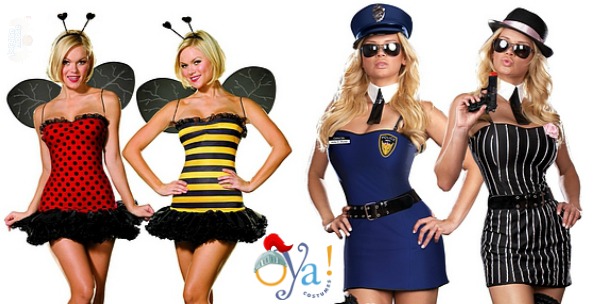 Oya Costumes has a $5 off $50 coupon code for anyone who has subscribed to their emailing list or liked their Facebook page. They also have some sweet costumes on sale right now that you totally need to check out.
Click here to shop @ Oya Costumes Canada now
Coupon Code: LIKE5
Discount: $5 off $50
Expiry: Unknown
If you are into costumes that can double for both Thanksgiving and Halloween, pick up this Pilgrim Boy Costume that was $39.95 and is now $12.25. You get two holidays use out of it instead of one!
One of the things I like about Oya Costumes is their selection of reversible costumes: two costumes for the price of one! Even better is when they are on sale. This Crimes and Miss Demeanors Costume was $76.99 and is now $34.45. The costume reverses inside out from a prison guard to a prisoner. This Daisy Bee Reversible Women's Costume (pictured above) is also awesome because you can go as a bumble bee or as a ladybug by just reversing the costume. It was originally $69.99 and is now $39.95. If you are going to a couple costume parties where you might see some of the same people, it is a nice way to change up your costume without spending a lot of money.
Shipping is a flat rate $9.95.
For this and any future Oya Costume coupon codes check out the forum.