Kodakgallery.ca: Print Coupon Codes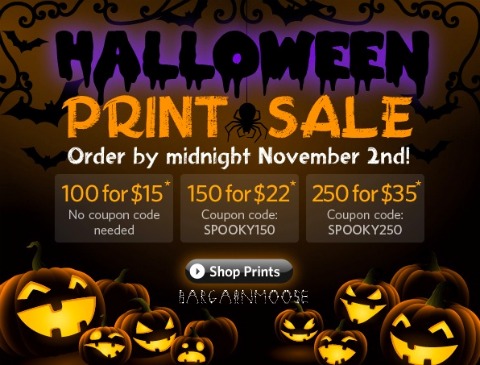 Just in time for Halloween Kodakgallery.ca has released some new print coupon codes so you can get more, for less. The coupons only apply if you are planning on ordering 150+ prints (4" x 6").
You can get 100 prints for $15 and no coupon is needed. If you want more:
150 Prints for $22
Coupon Code: SPOOKY150
250 Prints for $35
Coupon Code: SPOOKY250
Expiry: 2nd, November 2010
So if you want more than 150 but less than 250 you basically will receive a 2.7% discount on your pictures, that is what it works out to. If you want over 250 prints you will get a 6.7% discount on your pictures. Not a lot it seems, but in the long run and with a whole lot of pictures it adds up.