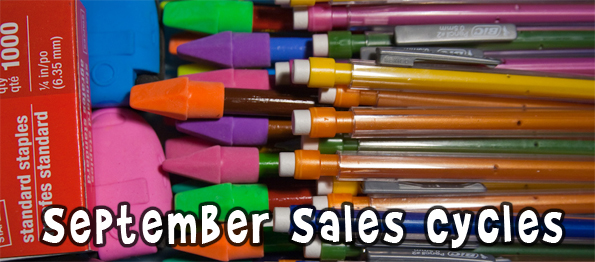 There are a ton of items that will go on sale in the month of September.  For most of these deals, you will want to wait until we are about a week into the month before you start to shop; this is the time that most September sales cycle items will be at their lowest.
Clothing- Summer clothing is on sale because the new fall lines will be heading into stores soon.  You will find some great deals over the next few months on bathing suits, sandals, shorts and tanks. You will also find great deals on shoes for back to school and kids clothing.
Labor Day Sales: This is the big holiday this month and there will most likely be a lot of Labor Day sales. There will most likely be clothing deals, school supply deals, and many other items on sale.  Make sure you really do your research with these sales though because they might be good, but some of these deals will be better after the holiday.
BBQ & Outdoor Supplies: Wait until after Labor Day and you will find some great deals on BBQ accessories, camping and outdoor supplies.  Gardening items will also be discounted because garden season is coming to and end.

Bicycles: This is a great time to get a bicycle for any age.  Bike helmets will also be on sale.  These are large objects that the store will be trying to get rid of to make room for items like sleds and outdoor snow items for fall and winter.

Car Accessories: With college students heading back to school in September, car companies will be counting on parents wanting to keep their children safe on the roads as they go out on their own.  Places that sell car accessories like car mats, brake pads and places that give oil changes will have some great deals.  They will want parents to come to them and make sure their kids cars are safe and all checked out.  Watch out for deals like this.

Back to School Items: Once the kids are already back to school, they most likely will have everything they need.  This means the stores will be trying to get rid of the items to make room for Halloween items.  You can get some awesome deals on any type of office supplies, back packs and any back to school items.  Wait until we are about 1 week into September and you will get the best deals.

Outdoor Play- Just like last month, this is the perfect time to get that play set for the back yard you have been eying for your kids.  Stores are trying to get rid of larger items such as play sets, pools, trampolines and other outdoor fun kids items to make room for new fall stock.
These are some of the great sales to look out for in the month of September.  What other deals do you like getting in September?
(thanks to Stevendpolo for the image)