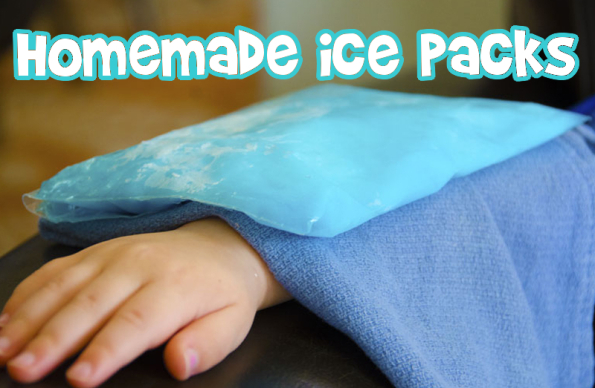 The kids are back at school, and that might mean they play hard outside at recess and come home with a few bumps and bruises. If you ever find yourself in a pinch, ice packs are super easy and cheap to make. You won't even have to sacrifice your frozen peas and these homemade ice packs can be used over and over again. Every athlete or mom should have this recipe handy, as it only has items that you probably already have around the house. There are two different frugal ways to make homemade ice packs, so pick your poison.
Version 1:
So, here's what you're going to need to make your homemade ice pack:
rubbing alcohol
water
resealable bag
First you open your resealable bag. Then you can mix a formula that is 1 part rubbing alcohol and 3 parts water. That means if you do 2 cups of rubbing alcohol, you're also going to add 6 cups of water. You will use different amounts depending on what size of ice pack you want. It may be handy to make up a few and store them in your freezer for the future. These ice packs will get really cold and feel like gel, but they will never completely freeze.
Version 2:
For this version of the homemade ice pack, the ingredients are a little different. You are going to need:
liquid dish detergent in your preferred colour
resealable bag
Then you are going to fill the Ziploc bag about 3/4 full with the dish soap and seal it. Throw it in the freezer and voila! You have yourself a homemade freeze pack. This option is not as frugal as the first option I listed, so keep that in mind for sure.
I would even go a step further and write cute motivational sayings on the Ziploc bag label. Perhaps you can write "Feel Better" or "Suck It Up, Princess" on your Husband's ice pack :) I find men always complain so much more about bumps and bruises than even the kids do! I also read online that you can add food colouring to make the colours more interesting for kids if you want. They may find it more exciting to use a pink or  green ice pack and that may help them take their mind off the pain of their recent bump. What do you think?
With winter coming up, I am sure our families are going to be slipping and sliding on ice. I suggest you make up some ice packs now so you are prepared for the future bump and bruises to come.
Moosers, have you tried to make a homemade ice pack before?