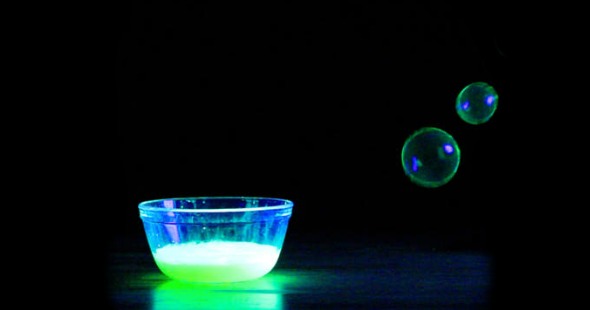 Okay, I have to admit that my kiddo and I already love bubbles. While they are already pretty fun, could you imagine having glow in the dark bubbles? This do it yourself project is simple and won't cost you much. Plus the materials are easy to find and safe. You could even make little bottles of glow in the dark bubbles as treats for your kid's Halloween party or to give out to classmates. The kids will love these! What do you think?
So here's what you will need to complete this fun project:
bubble solution (I like Miracle Bubble)
bubble wand (will come with the solution usually)
glow in the dark solution
This process is literally so simple! You're just going to mix some of the glow solution with the bubble solution until it has the desired look. The only trick is going to be making sure you keep the bubble solution strong enough to make quality bubbles once you add the glow solution. I would say about a 50/50 mix should do the trick. Then you can always add more glow solution or more bubble solution depending on your results. You may also want to buy a black light for the room you plan to blow these bubbles in, it will make the effects so much more apparent.
Now you're probably wondering where you can get glow solution, right? Simple. You can either add washable glowing paint to your bubble solution, but that can be hard to find. I also don't like the idea of having to wash everything the bubbles touch. Your best bet is to get a highlighter pen, cut it open and take the coloured sponge out that holds the ink. Squeeze the florescent ink into a bowl and then mix it with your bubbles. Otherwise you can use a glow stick and crack it open draining the fluid into your bubbles but I am honestly not sure how comfortable I am with that whole idea. Miracle Bubbles does sell their glowing "Fusion" bubbles if you don't want to try making these at home.
Moosers, have you made glow in the dark bubbles before?