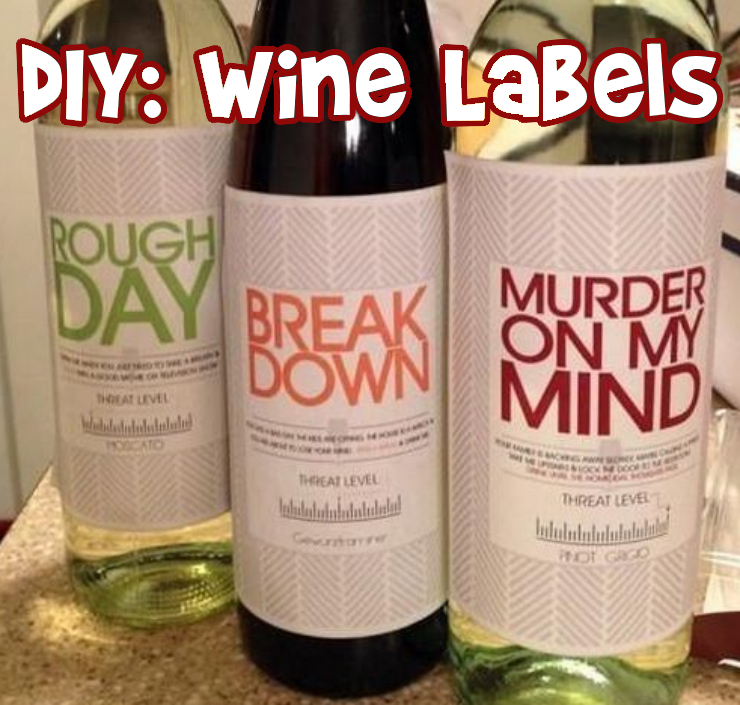 We all want to find that perfect, one of a kind gift. Right? Or maybe you want to properly display your self-medication like I do. Well these do it yourself wine labels might be the perfect solution for gifts, parties, and more. I mean, who wouldn't enjoy a bottle of wine labelled with a funny saying? There are so many free printable wine bottle labels out there, you shouldn't have to pay to print something that you're going to stick onto a bottle yourself. You can grab your favourite wine, or slap a label on your home made wine. You will need a printer for this activity of course, among other things. But the results will be worth it! Everyone will be laughing at your "Murder On My Mind" wine bottle.
Here's what you're going to need:
computer
printer
plain paper or label paper
*optional* graphics software (I use Gimp, it is free)
scissors
top coat spray or gloss/varnish spray
To get a little more fancy you may want to also use a digital camera and scanner to get images onto your computer, but Google should do the trick if you are wanting to create your own label using a graphics program. This may be funny to label it as Monster Wine and add an image of your friend or family member wearing a weird hat or something. You can super-impose the hat onto your image using your graphics software. You can also find a lot of ready to go labels on Pinterest and other sources online if you are not all that creative and just want something quick and easy to print & stick.
Here are some cute, free labels I found:
This one has cute Holiday Wine Labels that are ready to print & stick. I suggest a colour printer for this one, as a big part of Christmas happens to be the red and green colour scheme, right?
Follow this link and click the label you like best. It will then download to your computer, and you can name your wine and add some other text as well. This is great for wedding wine bottles, anniversary gifts, etc. They are cute!
Just print this one, and cut the label out. It should be approximately the right size if you print it at full scale. I love this one! I am going to have a bottle of Break Down in the bath tonight, and tomorrow night... and the next night. This wine is perfect if you have had a bad day, the house is a mess or if you're about to lose your mind.
These adorable Posh Tart Parties free labels are super simple. You literally print them, and stick them onto your wine bottle. If you didn't buy label sticker paper, just put some glue on the rectangle designated area and once on the wine bottle, glue the other end of the label to the rectangle spot so it wraps around your bottle. Super easy, right?
There are so many wine labels available. You could even just find a funny meme online and slap it onto your wine bottle if you want. The opportunities are endless, but I love this idea as a personal gift.
Once you print your new wine label, you are going to want to set it aside and let it dry for a good portion of time. You don't want the ink to run. Then you can use your varnish or gloss spray and give your labels a good once over. I would do this outside or on paper towel so you don't cover anything else in gloss. Once it has dried, you can stick your label onto your wine bottle. Depending on which type of paper you printed your label on, this step will differ. If you used label paper, you can probably just peel & stick your label to your wine bottle. Otherwise you are going to need a really good glue, which can get messy. I really do suggest you try to use sticker paper to prevent any globs of glue or glue seeping through and making the ink run. It will also stick longer and have a nicer end result. That is just my opinion.
Voila! There is your very own, personally labelled wine bottle for an excellent gift (or your own consumption).
Moosers, what is your personal wine label going to say?
(Expiry: Never?)