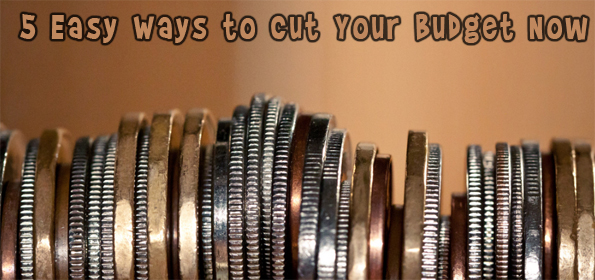 "Five Easy Ways to Cut Your Budget Now" is a guest post by Joe Wood of TimelessFinance, a Canadian personal finance blog that's a wealth of knowledge about building wealth.
Cutting back is a good thing. Not only does cutting your budget save money, but it also makes your life easier. Here are five simple ways that you can cut your budget today:
1. Reduce your utility bills
You are wasting money on electricity, heating, or cooling as we speak. Cut it out!
Electricity is way too expensive already, and it gets worse every year. During the summer, hang your laundry to dry outside. In the winter, if you don't have the space for a laundry rack in your basement, then cut back on dryer time. Pick up some dryer balls at the dollar store.
If you have CFL light bulbs, then stay on the lookout for inexpensive LED bulbs. If you're still using incandescent bulbs, get a few six-packs of CFLs and make the switch NOW!
Turn down your thermostat in the winter and dress warmer. Turn it up in the summer. Most importantly, stop heating and cooling the outside! Take a Saturday and make your home more energy efficient. Buy some window wrap kits at the dollar store. Put new weather stripping around your external doors. Close off vents and rooms that you don't need to heat or cool. More ways to save on utilities here.
2. Cancel your cable
The average Canadian's TV bill is $60 a month and it has been growing by 5% a year. That's ridiculous. The internet is all you need nowadays. Hook your laptop up to your TV. Watch free shows on a Canadian network's website. Buy episodes on iTunes or Amazon. If you really like getting TV channels, pay a few hundred dollars to install a high quality free-to-air UHF receiver. More ways to save on your cable TV bill here.
3. Slash your food waste
We all know about the latté factor. But what if you really enjoy going for coffee on your break? Well, go somewhere cheap. Make your lunches out into a treat – do it on Friday and go to special events, rather than blowing $12 every day – and start "brown bagging" more often.
You probably aren't on BargainMoose if you hate clipping coupons but, if you do, then at least shop for things on special. Start with a weekly meal plan – you'll save money on shopping and spoilage. Here are some more grocery budget savings tips.
4. Learn that it's OK to buy used things
If you bought your car new, then your pride cost you a lot of money. What's wrong with buying your next TV stand on Kijiji? Nothing. There are lots of designer labels at the thrift store, and it'll make shopping more of an adventure. Here are 8 items that you should consider buying used.
5. Cut your landline
If you have a cellphone, your partner has a cell phone, and your kids have cellphones, then why in the world do you have a landline?
Get a better deal with your cell phone carrier. $56.25 covers my entire smartphone bill, including tax – I get data, lots of long distance, and even call display. I just negotiated the same for my girlfriend. Even if you're under contract, don't forget to call up your cellphone provider and demand a loyalty discount if you've been with them for a while. I do this every year and I always get something! Or see about switching over to VOIP!
Conclusion
Big organizations – companies, governments, charities – often use a system called "Zero Based Budgeting". Instead of budgeting the same amount for everything each year, they start each budget item with $0 in funding. Each expense needs to justify itself every year. "No good reason" means "no money". We'd profit from applying this idea to our own spending. Have you got any more quick tips that you've been emplying to save money?
(Image credit: Sharon Drummond)