Snackbox Canada Exclusive Promo Code: $15 Off Your First Order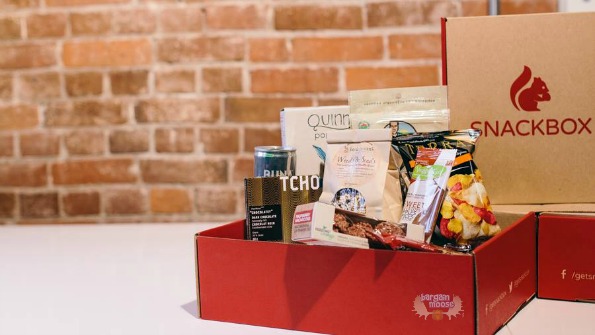 Get $15 off your first purchase of a Snackbox or Snackbox subscription with our exclusive Bargainmoose promo code.
Click here to shop @ Getsnackbox.com now
Coupon Code: BARGAINMOOSE
Discount: $15 off
Expiry: 31st January 2013
I recently had the pleasure of acquiring a delicious Snackbox. It was way larger of a box than I had thought and when I opened it, my kids were complete scavengers, trying to eat everything in the box. What I loved about that was that everything was healthy! The box consisted of 13 healthy full-sized (not sample) items and although it changes every time, I'll tell you about some of the treats I got.
Right away we opened the Wal Lana cassava chips ($2.89). I had never eaten cassava chips before, which are gluten and everything else free, and I was actually really surprised at how tasty they were. They reminded me of Munchos chips, so light and melt in your mouth. My kids ate the whole bag (I got a few). Then of course being a chip loving family, we opened the BBQ Hardbite chips, and these were really good too, also free of all the bad stuff that's in regular chips. So, you might think, what is so healthy about chips? Besides the chips, the box also included items like mango snacks, dark chocolate, a ginger drink, nut thins, sunbutter, roasted chickpeas and quite a bit more.
I think these snack boxes make an excellent gift idea because 1) everyone eats 2) people want to eat healthier 3) people want convenience 4) people want to try new products without paying for them. Snackbox included a list of all the items, where you can get them and their regular price on a really cute card. I love that it introduced me to some items I would have never known to love otherwise, like the cassava chips and bana krisp, which is a blend of almonds, rum and bananas made into really flavourful crisps. This would make a great gift for your spouse, a teacher, an employee or anyone. I think it would be great to send to someone's work, so that they have almost a month's worth of healthy afternoon snack options.
The total of my box would be $46.88, not including what they paid for shipping. There are three types of subscriptions:
One month at a time - $33 per box plus $6.95 = $39.95 a month
Three months at a time - $37 a box plus $6.95 a month = $101.85 total
Six months at a time - $24 a box plus $6.95 a month = $185.70 total
With our exclusive coupon, you'll save $15 on any of the subscriptions, so if this is a one month thing, you'll pay only $24.95 for your first box.
If you love Snackbox, check the forum for more coupons before ordering.