Real Canadian Superstore Coupon: Free Vtech Phone With Purchase!
This printable coupon is handy for those of us Bargainmoosers in western Canada, specifically Yukon, BC, Alberta, Sask, and Manitoba. If you spend $250 or more, Superstore will give you a free Vtech phone worth $39.99!!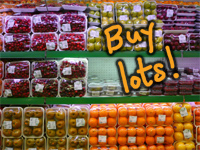 That is quite a high minimum spend, but most of the Superstore coupons that I have seen are similar. Sometimes I find it easy to spend over $250. I throw everything in my cart that I use often, 2 million cans of chopped tomatoes, a ton of tagliatelle, or 50 litres of OJ!
Thanks to rvacapinta!