Monterey Ranch Crispy Chicken Burger Only $2 @ Wendy's Canada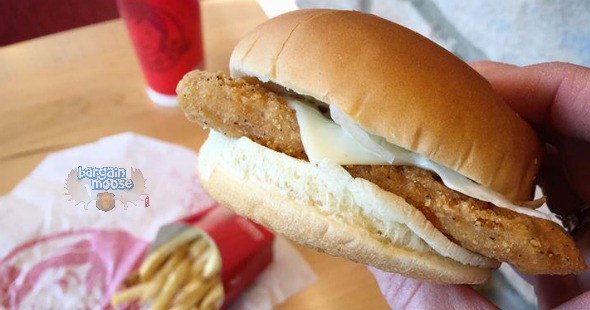 For a limited time, you can get your ranch on at Wendy's restaurants in Canada for just $2! The Monterey Ranch Crispy Chicken Burger has been added to their Value Menu Items for just $1.99. I tried this burger today and was quite impressed.
I am a sucker for chicken burgers. It is very rare that I ever order an actual beef product from a fast food restaurant. The price is even better! For just $1.99, you can enjoy a tender, chicken breast burger made of all white meat. It is dressed with a creamy tangy ranch dressing, Monterey Jack cheese, and lettuce. I ordered a medium coke with my lunch today and was surprised that the coke cost the exact same price as the burger.
I did ask the cashier what this burger costed previously. She advised me that it is a new product exclusive to their value menu, although on their website this item is not listed in their Value Deal Menu. It costs $1.99 right now, always has and always will. She did warn me that it may be a limited time offer, depending on the popularity and that not every Wendy's restaurant is participating in this offer.
From McDonald's I would normally order the Junior Chicken burger, which is comparable in price to this Monterey Ranch Crispy Chicken Sandwich. Honestly, I would take the Wendy's chicken sandwich over the McDonald's sandwich any day. I was much more satisfied hunger wise after consuming this burger, and it had a more pleasant taste. I can also add that there is absolutely no comparison in sizing between the Wendy's medium beverage and McDonald's medium beverage. Is it just me or do the Wendy's pop cups always seem gigantic? I am not complaining.
I don't usually eat french fries from fast food restaurants (call me crazy), so I spent just a little over $4 for both the burger and my pop. I think it is great that I could get lunch for that cheap, and actually enjoy it. I was expecting the burger to be a bit spicy for some reason, and it was not. I suggest for you Moosers to give it a try. You can't go wrong for just $2.
(Expiry: Unknown)