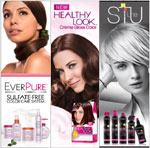 I was browsing the L'Oréal website and I saw a link for some free coupons. The coupons are actually hosted on Websaver.ca which I have mentioned in this previous post about good Canadian sites from which you can order grocery coupons. There are 3 L'Oréal coupons available, so handy for those of you who are fans.
You can get the following:
$2 discount on any Everpure haircare product
$2 discount on any Studio line product
$2 discount on any Healthy Look product
On Websaver, you choose the coupons you want, and they will mail them out to your home.
And if you are interested in L'Oréal products in general, I'd recommend joining the newsletter online, and they may send you details of freebies and special offers.