Extra Foods Printable Coupons for Groceries – Free $25 Gift Card (Spend $200)
UPDATE - Expired!

Sometimes I spot these online coupons for the Canadian grocery stores. You can take the printable coupon with you when you do your food shopping. They range from giving you a flat discount on your purchase, to freebies, such as free fruit, or free gift cards.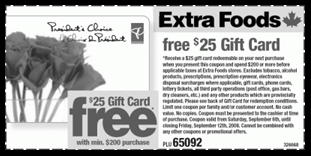 This free coupon is for use in store @ Extra Foods supermarket. If you are spending at least $200 on your grocery shopping, they will give you a free gift card worth a $25 discount on your next shop. You must use this before the end of Friday, September 12th 2008.
Even if you don't normally spend as much as $200 on your weekly groceries, take a quick look down your grocery list and think about stocking up on a few items to push your order up to the $200 level (saving you money in the long run as you can then use the discount coupons).
For example, I stock up on paper towels, cans of soup, rice and pasta… things I can keep for future use. Or… I guess you could stock up on $200 worth of chocolate! Yum!
- Anna