Costco Canada: Safety 1st Boost Air Booster Seat Only $74.99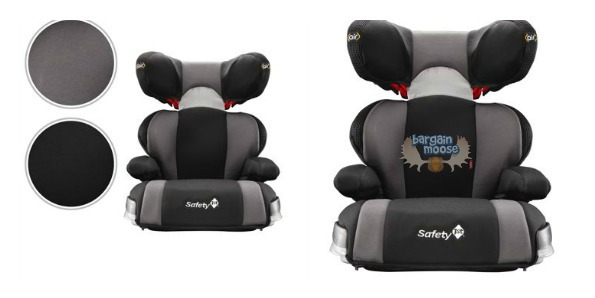 Costco Canada is selling a Safety 1st Boost Air 100 booster seat for only $74.99, $20 off the original price of $94.99.
What is more important than the safety of your children? I spend as much as I can possibly afford (and more) on getting the best car seats. Moving to a booster seat is no exception. I actually even keep my child in their car seat as long as they fit, even though boosters are so much easier. This booster is a great price and has all the bells and whistles.
For a long time I wondered what the difference between those seats that do nothing more than elevate the child, and the high-back boosters. The answer is neck protection. In a side impact collision, this seat has Air Protect that works to diminish the force of the crash. It also has a second layer of defence, which allows air to escape from the headrest, channelling more crash energy away from your child.
For comfort's sake there are padded, pivoting headrests, a removable, washable (so important, let me tell you!) full wrap fabric newsboy pattern pad, and a multi-position, adjustable padded headrest with deep-sided wings. If you are interested in a backless booster, this seat converts to that as well, which is great for moving it from vehicle to vehicle or taking it on trips where you might be on a plane then in a vehicle. There is also a slide-out cupholder on each side, which is probably the most important thing of all!
Your child should not move to a booster seat until they are at least four years old AND 40 lb. AND 40 in. My middle son is five, but he is tiny and slim. I think he'll be ten before he gets out of his carseat.
The reviews are great for this seat, based on quality and comfort and very quick delivery by Costco.
Shipping is included in the cost of this product.
(Expiry: 10th February 2013)