Canadian Coupons: $5 Off Aleve (Grocery Coupon)
If you'd like a free $5 coupon for Aleve 100s, check this out: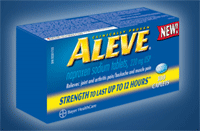 This is what the small print says, there are a few exclusions:
Sorry, ALEVE® is not available in BC/NFLD at this time. Coupon not valid in Quebec.
If you haven't heard of these tablets, the box says that they are good for joint and arthritis pain, backache and muscle pain.