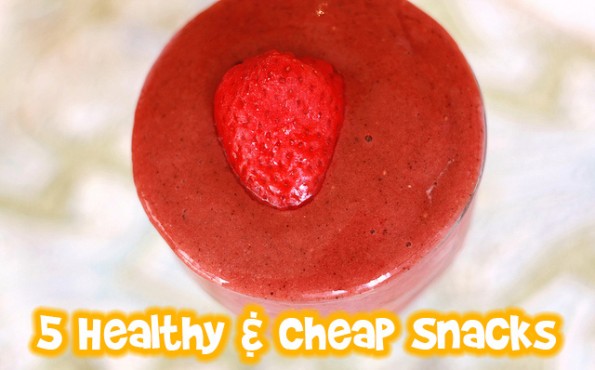 It's starting to heat up outside, and that means it's time to starting eating lighter and maybe consider shedding a few pounds to fit back into your swimsuit. To help you get ready for summer and help you boost your healthy diet into high gear, here are 5 healthy snack recipes you can make at home for a fraction of their store-bought equivalents.
Applesauce Overnight Oatmeal Recipe
I found this great and easy-to-make recipe over at the Cheap Recipe Blog. Guest poster Lauren from The Oatmeal Artist explains how it only takes a few minutes to make (minus having it sit over night in the fridge) and it will cost you less than buying a bagel and coffee in the morning.

"Cheesy" Vegan Kale Chips
If my husband can make kale chips, anyone can make kale chips. Perfect for satisfying that salty craving, but also healthy and cheap enough that you can eat as much as you want whenever you want. Thanks to Simone Anne for this great recipe!

Avocado Hummus
With the help of a food processor, this recipe for avocado hummus from Purely Primal should take you no more than 60 seconds to whip up! What's interesting about this recipe is it doesn't actually have any chickpeas in it, but it still serves the same purpose of making veggies and dip that much more delicious.

Frozen Banana Yogurt Pops
Popsicles are perfect on a hot day, but they are usually chalk full of sugar and lack any nutrition. Clever Crafty Cook Mama has a solution for that with her amazing recipe for frozen banana yogurt pops. Just get a bunch of bananas, dip them in some yogurt, pop them in the freezer and your done!

Date Balls
As found on Tempest's blog Ellomennopee, this detailed recipe for date balls is easy to make and can be stored for long periods of time since all of the ingredients are dried. Even better, besides the dates themselves, you can just add in ingredients you already have from you cupboard. Now that's frugal and convenient!

Bargainmoosers, what are your favourite healthy and cheap snacks?
(Image credit: Jennifer)