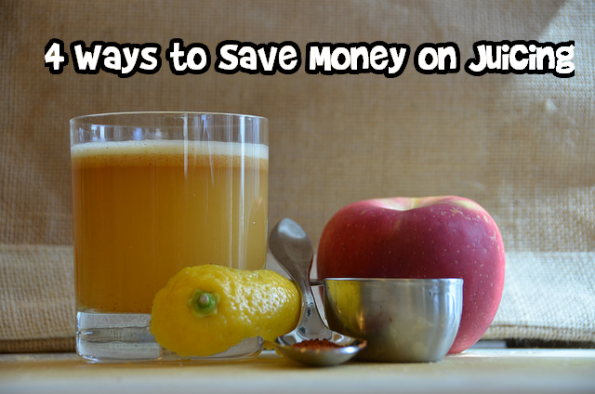 A lot of people that I know have been getting more and more involved and interested in juicing.  It's the new "it" diet and a lot of my friends that have tried it, or are regularly "juicing" swear by its health benefits.  They say they feel like they have more energy, they are less hungry, they crave less sugar, and feel healthier.  As per the Dr. Oz show (and Oprah too!) juicing is great because fruits and vegetables are abundant in vitamins, minerals, and phytonutrients that protect you against cancer, heart disease, and other ill health.  Juicing is a fantastic way to detoxify your body.
I personally have never tried juicing, but one of my good friends who tried juicing opted for a Groupon to get her started in juicing.  It included instructions on how to juice, and included a number of recipes for juicing.  When she texted me a picture of her groceries that she bought for juicing, I was shocked.  There were so many fruits and vegetables but after all that juicing it only produced a few glasses of juice.
Juicing can be expensive for sure, so here are four tips that might help you save money on juicing, so you can invest in your health for less!
Find a Good Juicer
Some people spend hundreds and hundreds of dollars in a state of the art juicer.  However, some of the simpler models will do, especially if you are just starting your juicing trend and are unsure whether you will keep it up.  The Toronto Star has a great article by saving money queen Ellen Roseman on juicers that consumer reports recommends, and they are more economically priced than you think.  For example, you can get a great juicer for under $100.
If you think about it, juicing (even though you are buying a lot of fresh fruits and vegetables) is cheaper than buying expensive juices and smoothies on a daily basis (such as at Jugo Juice or Booster Juice) and also cheaper than eating out regularly.  Because it doesn't take much time/ effort to clean out the juicer, this might be an alternative for those don't have enough time to cook and prepare a meal.
The Freezer is Your Friend
Although ideally you want fresh fruits and vegetables, you can buy certain fruits when they are on sale and freeze them.  In this case, investing in a chest freezer might help you save even more money.  A lot of berries such as blueberries freeze very well.  I have frozen spinach that I keep handy.
Juice Garden
Another way to save money with juicing is to grow a juice garden.  Of course, this is only feasible if you have a garden.  If you have some grass or some soil on some land and have at least 6 hours of sunlight a day for your potential garden, it might be a good idea to create a project to have a garden.  Optimally you would need four feet by eight feet of space, according to Yahoo.  Making a raised garden bed with cedar can be done by getting cedar that is six to ten inches high and two inches thick, this provides the best results.
I have grown tomatoes, swiss chard, romaine lettuce, butter lettuce, and kale with no difficulties.  I do not have a green thumb at all, so if I was able to do it, you can too!
Don't Waste the Pulp
One of the complaints that my friend had when she started juicing was that she felt bad because she was wasting and throwing away the fruit and vegetable pulp a lot of the time.  On the Passionately Raw blog, she shares some idea on what you can do to use the pulp (as known as juicing refuse) for other things, that way, you can extend that healthiness for longer!
All you have to do is freeze the pulp in a zip lock bag until you are ready to use it, and when you are, you can use vegetable pulp in raw crackers, as a dip, or you can add the vegetable pulp to food.  For fruit pulp, you can re-use it into jams, use it in baking, and even make raw desserts.
Bargainmoosers, how do you save money on juicing? Have you ever tried it?