WagJag Canada: $49 for an O+ Elevate Pack & a 3-Pack of Natural Refills (a $90 Value)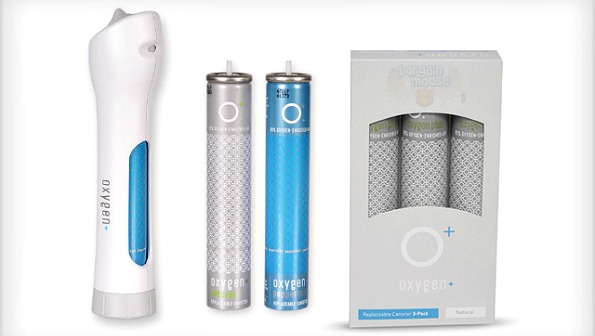 There is a great deal over at WagJag Canada right now that will save you a bundle on a package deal for anyone who is excited about health and well-being.  For a limited time only, get an O+ Elevate pack and a 3-pack of natural refills for just $49.  That is 46% off the regular price.
If you are unfamiliar with this type of product, they are becoming very popular lately.  Oxygen bars are popping up in shopping malls and the idea of bringing your own little supply of oxygen while working out or hiking is very trendy. People are always looking for more ways to stay healthy and boost their energy and this is a natural way to do it.
This elevate pack is packed with 95% enriched oxygen, and is small enough to fit in your purse, gym bag, back pack or at your desk. The reason behind this recreational oxygen is that it gives you that extra edge with heightened concentration, alertness and even mental clarity. It is all natural and will give you a little boost during your busy day.
In total, it contains over 250 breaths (50 per canister) and will give you a nice little boost of energy naturally throughout the day.
To put this deal into prospective, the O+ Elevate pack by itself is normally priced at $39.99 and with taxes & shipping puts it well over the $49 mark. That would not even include the bonus 3-pack of refills. The total value of this awesome deal is $90 but you can get it from WagJag for just $49. Additionally, you will not have to pay a cent for the cost of shipping and the taxes are already included so there will be zero additional charges.  You really can't beat that!
Once you order this deal, it will take 4 to 6 weeks after the deal closes and your package will be delivered right to your front door. You can buy as many as you would like so think ahead to your Christmas shopping list for anyone that is trying to get their health and fitness goals back on track.  I know I would love to try this portable oxygen system since I have already tried out an oxygen bar before and loved it.
(Expiry: 8th October 2014)