Vintage Inspired Gemstone Rings For $89 @ Peoples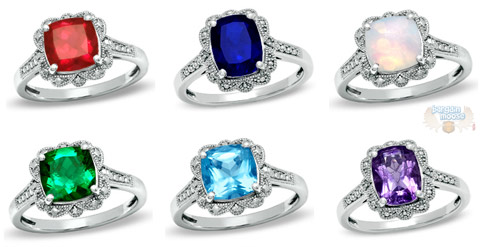 In a recent email from People's Jewellers, they were advertising these gorgeous vintage inspired sterling silver gemstone rings for $89. Aren't they pretty!
The rings come in a selection of 6 colours (pictured above):
Ruby
Sapphire
Opal
Emerald
Topaz
Amethyst
What's your favourite colour from the above selection? I'd have to go for the Sapphire, I love the deep blue finish to it. Did you know that sapphires come in millions of colours, they're not one specific colour of gemstone? I saw a gemstone exhibition in a museum in Australia, and the colour range available was just fantastic.
We also went "fossicking" for sapphires there too. It's where you buy a bucket full of wash, which is the sediment from the mines. You can pan for sapphires and emeralds, and can sometimes find small gemstones in there. I really enjoyed myself that day and we found quite a few precious stones, though they probably weren't very valuable. A friend of ours was a lapidary, and he cut and polished the little stones. They're ready to go into a ring setting, but they're nothing like the sizes of the ones in the picture above!
If you're pushing your order ove the $100 mark, use this coupon code for a further $10 discount:
Coupon Code: PPLES10100AFF
Discount: $10 off $00
Expires: Unknown
Shipping from People's Jewellers is $15.95, or free when you spend $199.