The Source Canada: Free Printer With Laptop Purchase ($80 Value)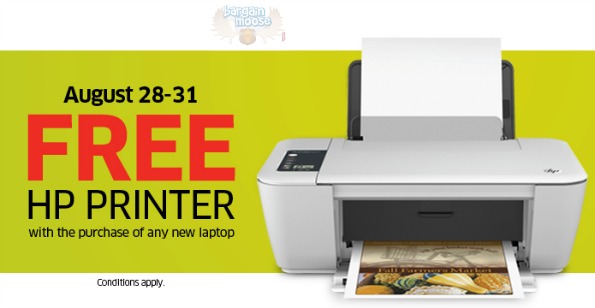 Receive a free HP Deskjet 2542 all-in-one printer worth $79.99 when you purchase any laptop at The Source Canada for four days only.
This older model printer is no longer available at the majority of the stores I looked at when I was attempting to price compare. However, companies bring out new printer models several times a year so it does not surprise me that a perfectly good printer is no longer on vogue. My nearly four-year-old HP Touchsmart printer was no longer sold mere months after I bought it, and yet it still functions perfectly well (except for the odd digested paper).
You do not need to add the printer to your cart; rather it will be automatically added for you with a qualifying laptop and then discounted to $0.

Let us talk about inexpensive computers. Face it, not everyone has the money to go out put down half a month's income on a new connection to the mythical land of Facebook and  planet Twitter. In addition, as most honest computer technicians worth their salt will tell you, the computers that people own far exceed their requirements. It is like getting a Lamborghini to go grocery shopping: overkill. Thankfully, The Source has several base models that will cost you under $250 and take care of your basic needs.
Acer Aspire AOD270-1892 10.1" Netbook - Was $349.98 | Now $199.96
This netbook is the ultimate laptop for portability. The 10.1" screen is still big enough to function for decent word processing, and the attached keyboard and following stats make it far better than a tablet that costs tons more. The stats are:
Intel Atom N2600 Dual-Core Processor
1GB DDR3 SDRAM Memory
320GB 5400RMP SATA hard drive
Acer Aspire One AO725-0691 11.6" Netbook - Was $399.95 | Now $219.96
Get a slightly bigger screen, faster processor, and a bigger chunk of memory with this Netbook for only $20 more. Your screen also upgrades to LCD for superior viewing of HD films. The features are:
AMD C-60 Processor
2GB RAM
320GB Hard drive
Microsoft Office software
Both are open box models with full manufacturer's warranty. The free printer offer can also stack, so if you buy two laptops you will receive two free printers. I do not think anyone needs two printers, but you might be able to sell the second one to cut down your overall costs.
Receive free shipping on orders of $30 or more.
(Expiry: 31st Augusts 2014)