The Shopping Channel Canada: 60% Off Gemstone & Topaz Sterling Silver Ring + Extra 20% Off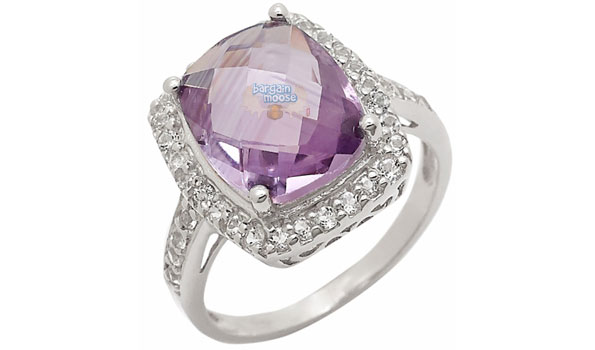 Treat yourself to a shining new ring as the gemstone and topaz sterling silver ring is on sale for $59.77 (reg. $149.99) and you can save an additional 20% off by entering The Shopping Channel coupon code: SHOP20 at checkout to bring the price down to just $47.82.
Made in Thailand, this gorgeous ring is sterling silver and rhodium plated and is available in 5 colours: amethyst, blue topaz, citrine, green amethyst, and smokey topaz. Rather than waiting for my hubby to get me some jewellery (men can certainly be rather clueless sometimes), I am definitely tempted to get myself this ring as it would match perfectly with a purple sweater I have. As such, I would totally go for the purple amethyst option, especially since that is also my birthstone.
With Christmas right around the corner though, this ring could also make for a great gift, especially since the little diamonds encircling the gem really make it stand out. Shipping fees differ from item to item but for this ring, they come up to $6.99. You can also break down the price into two payments of $23.90. Reviews are somewhat mixed but considering that it's on clearance and that you can enter the code above to save even more, I would say that it's sure worth the potential risk, especially since there are also a number of positive reviews like this one:
They were beautiful and got awesome service from this company because the size was not correct and they exchanged them for me at no cost. Will see if the gift is liked at Xmas.
Even better is that the coupon code mentioned above can be used on all merchandise that is on clearance right now at The Shopping Channel. I have been seeing bracelets like the R.J. Graziano stoney street comfort bracelet in plenty of stores lately but this one is definitely the one that I would consider buying as it's gold plated. It comes in either a blush (light pink) or cloud colour and comes even further down to just $19.98 from a sale price of $24.97 (reg. $39.97). Surprisingly, even the shipping fee for this bracelet was reduced at checkout from $6.99 to $3.50. So don't be too discouraged by any shipping fees that you see on each item's individual pages as these is a chance that these might get reduced as well.
Although the ring itself will remain in the clearance section while supplies last, the code mentioned above expires on September 22nd 2014.
(Expiry: Unknown)