Smart Weigh Glass Top Digital Kitchen Scale 60% Off @ Amazon.ca -- Now $24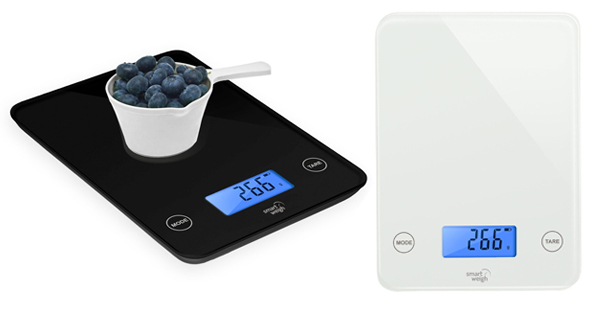 A good scale makes many kitchen and food-related tasks so much easier. Cooking and baking are faster, more precise and often simplified when you can just add ingredients as you go, tare (zero) the scale after each addition, and know you're using the correct quantities. If you're a baker, you're aware that baking is a science and know that just one teaspoon extra of any one item can ruin an entire recipe. Kitchen scales are also fundamental tools for losing/gaining weight and general weight management. I came across a fantastic deal on the Smart Weigh Digital Glass Top Kitchen and Food Scale with liquid measurement technology! I'm out of the loop of the newest kitchen gadgets, clearly, because I didn't even know that was possible. I'm tossing out all those mismatched sets of measuring cups immediately! Regularly $59.99, it's selling for just $23.99 right now at Amazon Canada. A 60% savings!
Of the 28 reviews on Amazon Canada for the Smart Weigh GLS20 Kitchen and Food Scale, 24 are 5-star. It's actually currently Amazon's number one best-selling kitchen scale. Strong endorsement, I'd say! The scale is available in black or white to suit all kitchens and both are the same low price. The glass top makes it easy to clean and easy on the eyes.
It features a clear, back-lit LCD screen that displays your measurements in many different units: pounds, ounces, grams, millilitres and cups, making measuring liquids a breeze. It has a 5 kg/11 lb. capacity. State-of-the-art, high-precision sensors ensure accurate readings every time. It includes a two-year manufacturer's warranty as well as the 4 AAA batteries required.
I did some comparison shopping to ensure this was as good a deal as I suspected. The Smart Weigh brand isn't carried by a lot of retailers but this model sells for $24.99 US directly from the manufacturer and $19.99 US at Walmart.com (which is approximately $564.76 Canadian now, right?). I looked at scales with similar features at various Canadian sites and found comparable models start at around $30 and climb from there; most hovering in the $60 range.
This low $23.99 price tag on the Smart Weigh Digital Glass Top Kitchen and Food Scale may not last as we know Amazon and their pricing so grab one at 60% off while you can. Being just under Amazon Canada's free shipping threshold, it won't ship for free so be sure to add on a filler item or two to bump up your total.
(Expires: Unknown)