Sherlock Complete 1st Season DVD For $25.99 & Free Shipping @ Amazon.ca Now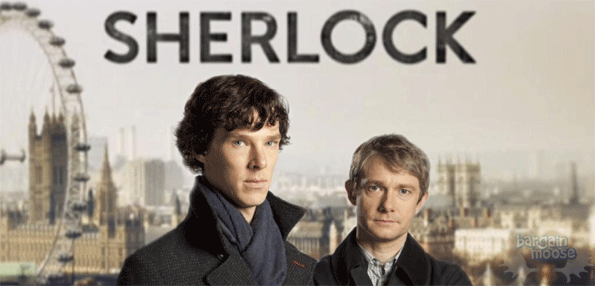 Have you seen the recent BBC remake of Sherlock Holmes, simply entitled "Sherlock"? Well, if you haven't now would be a good time to buy it - because there's a nice price on it at Amazon.ca. You can get the total first season on DVD for only $25.99, and that's with free super saver shipping too.
This is a superb modern re-make of the Sherlock Holmes stories, and it's a really nice good price from Amazon just now.
As I was doing my due diligence and price comparing online retailers in Canada for this item, I found that it is $35 at HMV, $35 at Chapters,  $36 at the BBC shop. I did find it for less at Future Shop ($23) but this wasn't helpful at all, because it was out of stock anyway. So the Amazon price holds up well to scrutiny.
I'll admit that the man candy in this show really helps - Benedict Cumberbatch (brilliant name and pictured above left) is very easy on the eyes. And I've always liked Martin Freeman too (above right), though he's not quite as sexy as Bilbo Baggins in The Hobbit!
My opinion: this show is well worth the money - I plan on re-watching it again soon - it's fantastic.
(Expiry unknown)